The Truth About Johnny Depp And Orlando Bloom's Friendship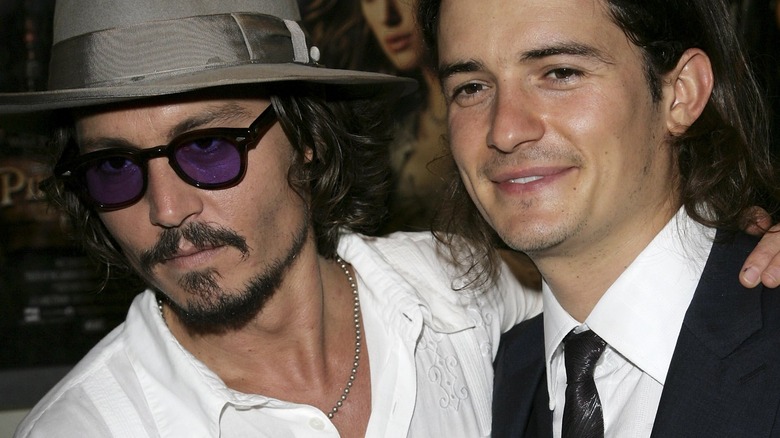 Dave Hogan/Getty Images
Starring in one of the biggest Disney movie series can be a daunting task, but it can also be a chance for actors to form lifelong bonds with one another. That certainly seems to be the case for Johnny Depp and Orlando Bloom, who played swashbuckling pirates Jack Sparrow and Will Turner in the "Pirates of the Caribbean" franchise.
Depp was already an established actor by the time he took on the role of Jack, but Bloom was still in the early days of his career. While he had starred as Legolas in the "Lord of the Rings" series prior to "Pirates of the Caribbean," he only had five feature film roles under his belt by the time he set sail as Will in "The Curse of the Black Pearl" (via IMDb).
"It was just the most fun I've ever had," Bloom said shortly after the first film's release in 2003 (via BBC). "I got to work with one of my heroes, Johnny Depp, and to see how he goes about business, which was really inspiring for me at this stage in my career."
They shared a hilarious trip to meet an important political figure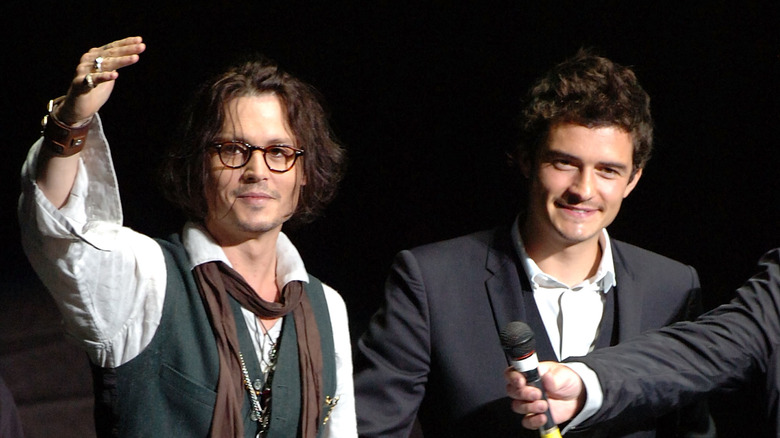 Getty Images/Getty Images
Orlando Bloom seemed a little intimidated at working with one of his idols at first, but quickly began to appreciate Johnny Depp's penchant for diving deep into his work. "I knew he'd bring something unique to it the way he always does with his roles. I just didn't know what it would be when I saw it, it was fantastic," he told the BBC. "For me, as a young actor, to see somebody like Johnny who creates a character from nothing, it's great."
While neither Bloom nor Depp have spoken in depth about what they got up to behind the scenes, Bloom did share a hilarious anecdote when they met the Prime Minister of Caribbean island Saint Vincent. The actors and producer Jerry Bruckheimer had taken a private jet to meet then Prime Minister Keith Mitchell, but Bloom and Depp got a little too tipsy on some red wine.
When then disembarked from the plane, "Johnny gave [Mitchell] a huge hug and kept kissing him," Bloom explained (via SFGate). "And then there's me trailing after Johnny picking up all the things he was dropping. It was crazy."
Orlando Bloom described Johnny Depp as a 'wonderful, kind human'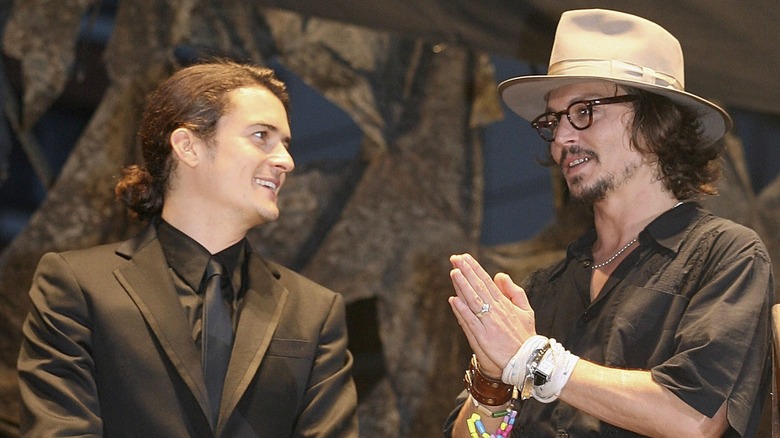 Koichi Kamoshida/Getty Images
In 2017, Orlando Bloom spoke fondly of Johnny Depp during the promotional tour for the franchise's fifth installment, "Dead Men Tell No Tales." At the time, Depp was embroiled in an ongoing legal battle and his divorce to Amber Heard (via People). "The man that I know and love is the man who's here tonight, and he's like on form and does everything the right way," Bloom told People magazine at the Los Angeles premiere.
"You know, people go through all kinds of weird stuff in the world and it's just a shame that it has to be dragged out in public," the actor said, adding, "Because, God knows he's been one of the most private and stand-up people I've ever met."
During an interview with NDTV around the same time (via YouTube), Bloom described Depp as being "larger than life in life" and said he's a "wonderful, kind human. He's great, he's very funny, he's very witty, he's got a British sense of humor."