How Trisha Yearwood Really Feels About Being A Stepmom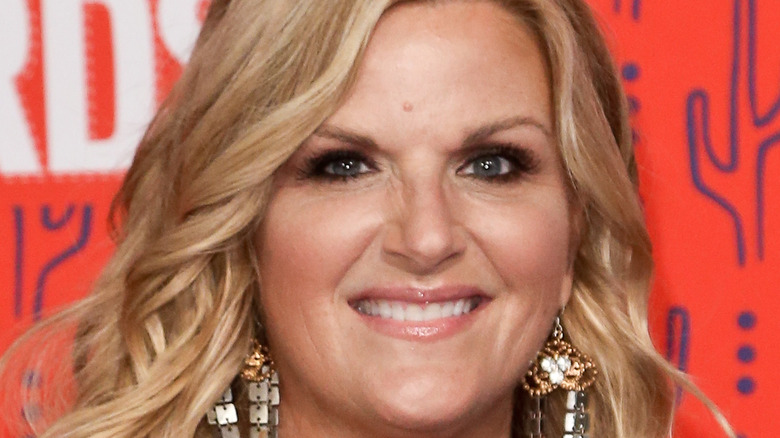 Shutterstock
In 2002, Trisha Yearwood and Garth Brooks made their first public appearance together (via Closer Weekly). They quickly became one of country's most talked-about couples, especially when they tied the knot in 2005.
They originally met in 1987, when they were both starting out in Nashville, and while there was a definite connection, they were both married. During an appearance on "The Ellen DeGeneres Show" in 2013, Brooks talked about meeting Yearwood for the first time. "It's strange, because I felt that feeling like when you just meet your wife, but I'd been married for 13 months," he said (via YouTube). In 1986, Brooks married his college sweetheart, Sandy Mahl, with whom he shares three daughters (via Country Fancast), while Yearwood first married Christopher Latham in 1986, then Robert Reynolds in 1994 (via Page Six).
The two remained friends through the years, but when they both became single in the early 2000s, they quickly became an item and then a married couple. With their marriage, Yearwood also became a stepmom to Brooks' daughters, Taylor, August, and Allie (via Country Fancast).
Over a decade later, Yearwood recently recalled to People magazine how she was thrown into the deep end when it came to motherhood.
Trisha Yearwood wouldn't change her journey to motherhood for the world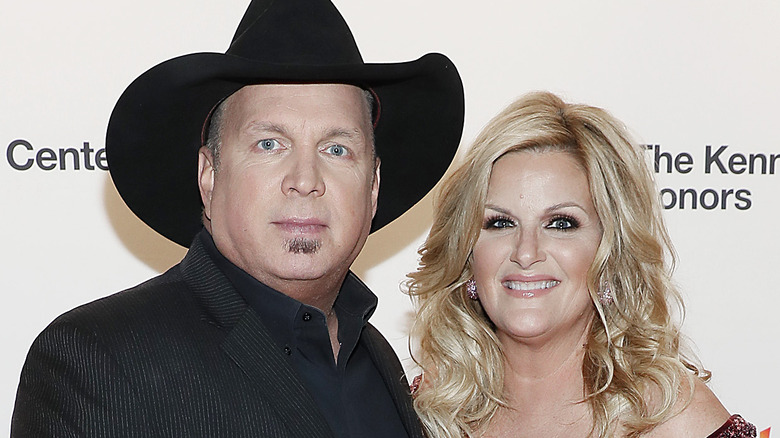 Paul Morigi/Getty Images
"I had a dog before I married Garth but no children of my own. I never even really babysat!" she told People. Thankfully, Brooks was a "wonderful mentor" and helped Yearwood become a parent and build a strong, motherly connection to his girls. "He told me, 'You'll find your way with each of them. Don't try to be their best friend, and don't try to be their mom.'"
Now in their 20s, Brook's daughters helped Yearwood become the "bonus mom" in their lives. "They were a gift that I didn't know I needed," the country star explained. "I didn't know how much children brought into your life until I got the chance to be part of their lives."
For other stepmoms-to-be out there, Yearwood shared the importance of bonding over meals together. "We realized it was important back when the girls were starting to drive," she told People, explaining how they started a "veggie night" both to get them to eat more vegetables and to bring all three teenagers together at once. "They loved it, and some of the best conversations happened around that table."
The pandemic also brought them closer as a family. "We've been together basically 24/7. We lost that as we got busier in our lives, and I think that getting that time back was really valuable for us as a family, especially for me being a bonus mom," Yearwood said.
Garth's ex-wife Sandy Mahl is proud of the stepmother Trisha Yearwood has become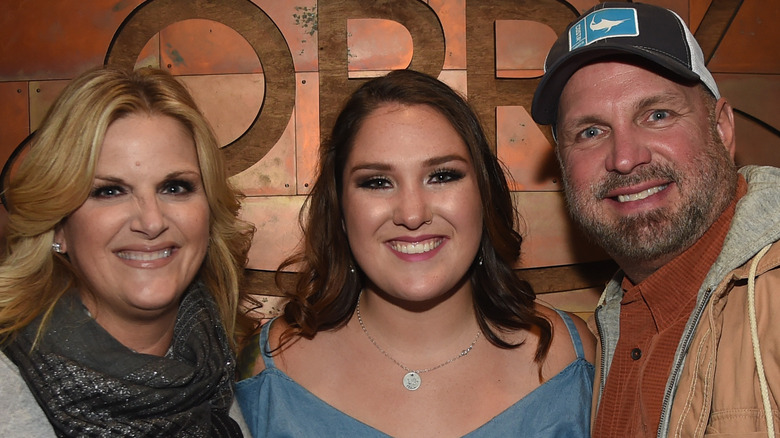 Rick Diamond/Getty Images
Following their divorce, Garth Brooks and Sandy Mahl have remained on good terms as they co-parent their three daughters. In the 2019 A&E documentary "Garth Brooks" The Road I'm On," Mahl revealed that she was entirely behind Brooks' marrying Yearwood only a few years after they split.
As Good Housekeeping notes, Brooks revealed in the documentary that when he asked Yearwood to marry him, Mahl supposedly said the marriage was a "good move" for him and a "really good move" for their children.
Brooks' daughters have nothing but good things to say about Yearwood. Allie Colleen, the youngest of the bunch, describes her stepmom as an "amazing woman" that she got the privilege to watch fall in love with her dad. "We got married; my bonus mom and I, and my sisters exchanged rings when my parents got married," she told Everything Nash. "It was such a beautiful relationship to grow up watching."