The One Skincare Mask That Padma Lakshmi Swears By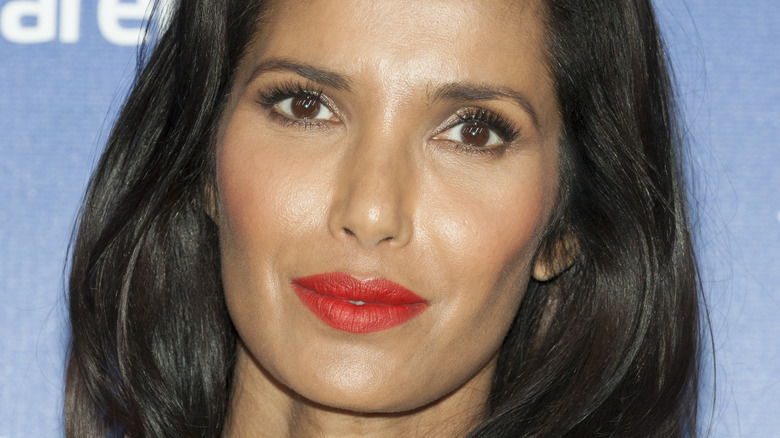 Shutterstock
Padma Lakshmi turned 50 years old in 2020. Her skin — which looks like it belongs to an airbrushed 20-something-year-old — would disagree. As a model and longtime host of "Top Chef," Lakshmi probably doesn't need to make acquaintance with Photoshop for any of her on-screen or print appearances. The bestselling food author credits a lot of that to the food on her plate. "My secret is my diet ... I think the reason people don't believe I am the age that I am is because I always ate well in my 20s," she told People in 2018. "What you eat shows up on your skin, on your hair, on your nails, [and] on the whites of your eyes," she continued. "And people don't realize that!" 
Lakshmi further explained her healthy eating to Into The Gloss in 2018 and shared some advice. "I think that if you make a point to have 50% fruits and vegetables, then it's easier. And eat those first — the order you eat your food matters, not just what you eat," she stated.
The women's rights advocate also grew up watching her mother practicing holistic skincare rituals, influencing her own skincare essentials, according to Byrdie. However, there is one brand that's stayed with Lakshmi throughout her career. This is the one skincare mask she swears by.
Padma Lakshmi has a favorite skincare brand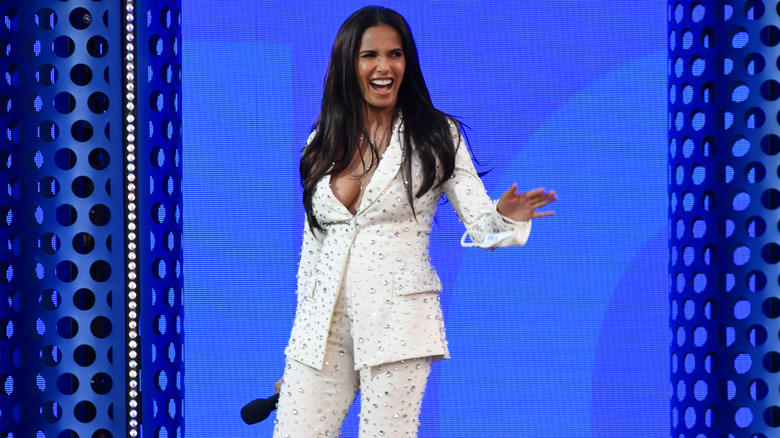 Kevin Mazur/Getty Images
Celebrity esthetician Tracie Martyn's line takes the top spot in Padma Lakshmi's heart, which includes one skincare mask the model swears by: the exfoliating mask that the brand is known for. "Tracie ... has an enzyme mask that's fantastic," she told Into The Gloss. "In my work, I have to wear makeup every day for TV, so this just sucks everything out of it," she continued. She also loves the Amla Cleanser and Face Resculpting Cream. And while most won't see it, Lakshmi wears Tracie to red-carpets as well. "I'll get a Red Carpet Facial from Tracie, and I'll also use her red light. I don't know what she does, but it's great," she said.
Lakshmi's mixed bag of routines also involves natural remedies like jojoba oil and honey as moisturizing agents. "It's my Indian heritage coming out," she explained to Into The Gloss. She also revealed her essential step. "I wear an SPF called EltaMD, which I love. My doctor gave it to me. I use the 46 SPF because I have hyperpigmentation issues."
Instagram filters may hate her, but we're grateful that Lakshmi wears her skincare secrets on her sleeve.