What Is The Kardashian Curse?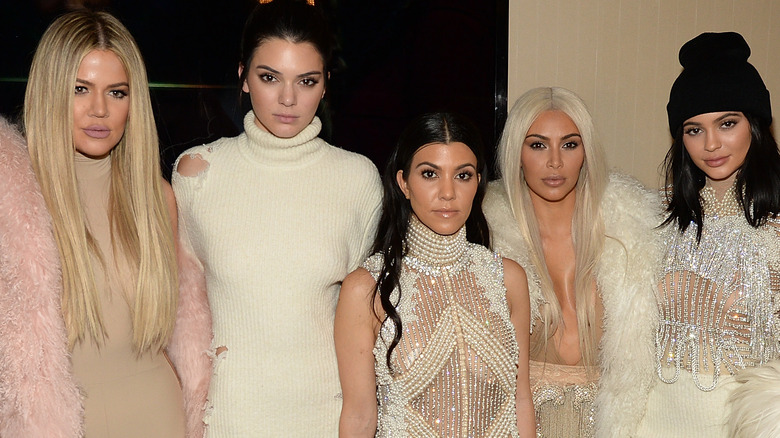 Kevin Mazur/Getty Images
If you're a fan of the Kardashian family then you undoubtedly heard of the "Kardashian Curse." The term is used to describe the bad luck that seems to follow anyone who gets too close to Kourtney, Khloe, and Kim Kardashian. It's even extended to their half-sisters, Kendall and Kylie Jenner (via Screen Rant). The curse has mostly been said to impact the romantic partners of the women but has also been extended to friends of the famous family as well.
In 2018, Kylie acknowledged the theory of the "Kardashian Curse" during an interview with GQ. When a reporter for the outlet suggested that the men in the lives of the Kardashian/Jenner women simply couldn't handle the level of fame that the family has acquired. "But it's not just men — it's friends, it's people who come and just don't know how to handle it. It's the negative," she continued. "There's a lot of people who love us, but there's also a huge handful of people who don't like us."
As time goes on, the list of men allegedly affected by the curse continues to grow longer and longer.
Who are the victims of the Kardashian Curse?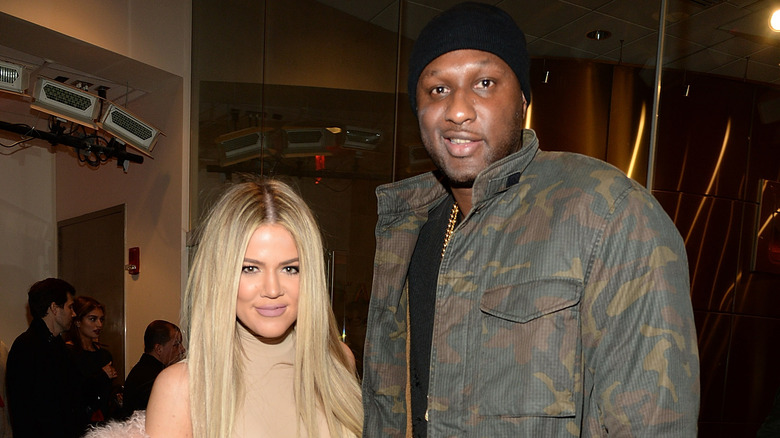 Kevin Mazur/Getty Images
According to Page Six, many famous men have allegedly been impacted by the so-called "Kardashian Curse." One of which is Kourtney Kardashian's baby daddy, Scott Disick. The pair met at a young age and share three children together. As their relationship progressed, Scott began to develop bad habits such as a wild party lifestyle and substance abuse issues. He's also experienced the trauma of losing both of his parents and has been in and out of rehab multiple times. Presently, Disick is said to be sober, co-parenting, and still remains an important member of the Kardashian family.
Khloe Kardashian's ex-husband, Lamar Odom, is another example of the alleged curse. Khloe and Odom met and married within a few weeks. Although they appeared to have a very strong marriage, behind the scenes they struggled with infidelity and Odom's drug abuse. Khloe eventually filed for divorce from the former LA Laker in 2013, but before the documents were finalized Odom had a brush with death when he suffered a near-fatal overdose at a Nevada brothel in 2015. Khloe was there to take care of Odom as he recovered, and the two eventually divorced in 2016.
Kim Kardashian's former husband, Kris Humphries is another name on the list. The former NBA player married Kim after only seven months of dating. They married in 2010, but after only 72 days of marriage, Kim decided to call it quits. They divorced and Humphries' career never seemed to rebound.
Is Kanye the most famous casualty of the Kardashian Curse?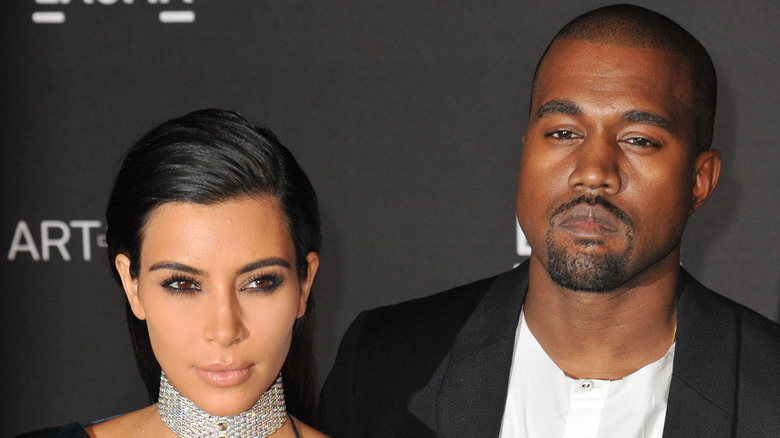 Shutterstock
Other famous faces who have been linked to the "Kardashian Curse" include Khloe Kardashian's former boyfriends, rapper French Montana and NBA player James Harden. Kylie Jenner's baby daddy, rapper Travis Scott, is also said to have fallen victim to the curse, per Page Six.
However, Kim Kardashian's estranged husband Kanye West may be the best example of the reported curse. Kim and West began dating in 2012 and welcomed their first child, daughter North West, in 2013. They got married one year later and eventually welcomed three more children together, sons Saint and Psalm, and daughter Chicago. Throughout the couple's marriage, West was diagnosed with bipolar disorder and had many public episodes. Kim allegedly began to get embarrassed by West's behavior and the two eventually decided to go their separate ways, per The Sun. They filed for divorce in February 2021 (via TMZ), and are currently co-parenting their children amid their split.
While there is no way to ever prove the existence of the "Kardashian Curse," fans can't help but point out the coincidences that seem to occur surrounding the men who love the women in the family.
If you or someone you know is struggling with mental health, please contact the Crisis Text Line by texting HOME to 741741, call the National Alliance on Mental Illness helpline at 1-800-950-NAMI (6264), or visit the National Institute of Mental Health website.