The Truth About Jinger Duggar's Husband's Criminal Record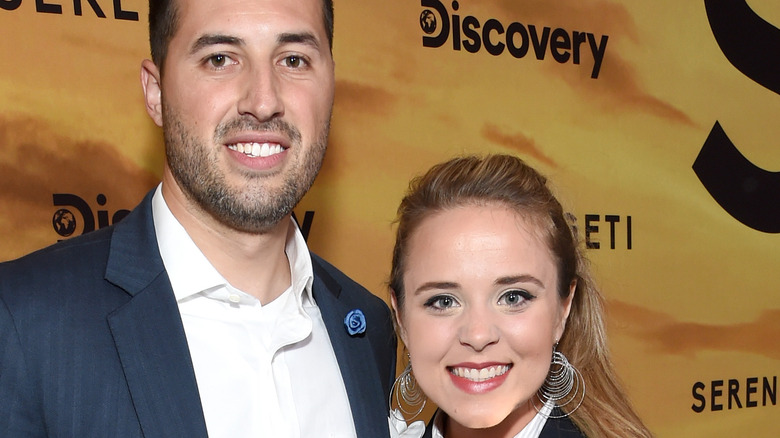 Michael Kovac/Getty Images
One of the most interesting aspects of the "19 Kids & Counting" series – not to mention one of the most controversial – was Jim Bob and Michelle Duggar's beliefs on dating and marriage. 
The parents have raised their large family according to the dictates of their ultra-conservative Christian church, which frowns on casual dating, premarital intimacy, and divorce. Instead, they promote a "courtship" period during which the couple goes on supervised outings as they determine whether this is truly the person God selected for them. Physical contact is strictly forbidden until the engagement, and even then, it's limited to hand-holding and side hugs until the wedding day (via People). 
It goes without saying that the married Duggar daughters didn't meet their husbands at a bar, at Burning Man, or even in a college class, (especially since the children have all been homeschooled, and some of them have taken courses through a self-paced online college program, via InTouch Weekly). 
Instead, they connected through their parents' mutual friends and through church connections. In the case of daughter Jinger, her love journey began when her sister Jessa and brother-in-law Ben met pro soccer player Jeremy Vuolo at a church event in Texas. Vuolo later visited the whole Duggar family at their Arkansas home and was invited to join them on a mission trip to Central America. "It was there that I really saw his heart and admired his character," Jinger said in an interview (via CBS).
But that character wasn't always as admirable as it is today.
Jeremy made some poor choices in college
As head of the household, Jim Bob Duggar vets the men who are interested in his daughters, so Jeremy Vuolo formally asked Jim Bob for permission to court Jinger (via Us Weekly). He said yes, and the couple courted for a month before marrying. But if Vuolo had asked the same question a few years earlier, Duggar's answer might have been quite different. 
Vuolo candidly explained in a 2020 "Counting On" interview (via People) that he wasn't always as clean-living as he is now. In college, he did his share of partying, and he didn't always make the best decisions while under the influence. As fans may recall, one night in 2008, Vuolo was out drinking with friends when he got into an argument with a police officer, shouting obscenities and grabbing the officer's arm. He was arrested and fined nearly $400 before being released to a sober friend (via RadarOnline). "That was the turning point for me," he said on the show. "From that point forward, I made the decision that I'm going to actively serve Christ with my life."
By the time Vuolo met the Duggars, he had put his party-boy past behind him and was working as a pastor in a Texas church. After his wedding to Jinger, they moved to Los Angeles, where he is currently in a master's program in a seminary school. The couple keeps busy with their two daughters, alongside his guest preaching appearances, their social media activity, and promotion events for their book, "The Hope We Hold."