Alexandria Ocasio-Cortez Shares Her Thoughts On Simone Biles' Olympic Journey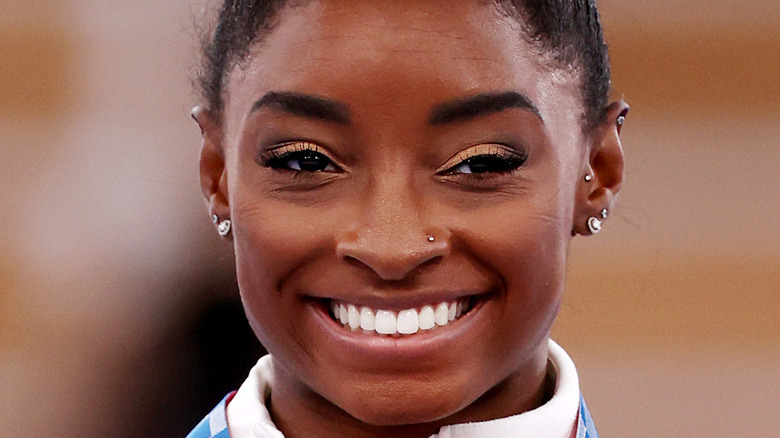 Jamie Squire/Getty Images
Simone Biles has been making headlines across the world at the Tokyo Olympics, but it's not for taking home another collection of gold medals. Instead, Biles has become front page news for her willingness not to bring home the gold. The Olympic gymnast, who came into this year's Games as the reigning gold medal winner, withdrew herself from the team finals on July 27 for the sake of her own mental health (via CNBC).
The team ended up winning the silver medal after Biles admitted she had what is called the "twisties" after a vault routine on July 26 that did not go as planned. Rather than performing the planned 2 ½ twisting vault, she landed after 1 ½ twists because she lost the mind-body connection that allows such feats to be performed when she was in mid-air (via The Washington Post). While Biles received some criticism for choosing not to compete, she also garnered support from around the globe.
 She also proved on August 3 that she is down but not out, and New York Congresswoman Alexandria Ocasio-Cortez took notice.
Simone Biles makes a comeback and Alexandra Ocasio-Cortez sings her praises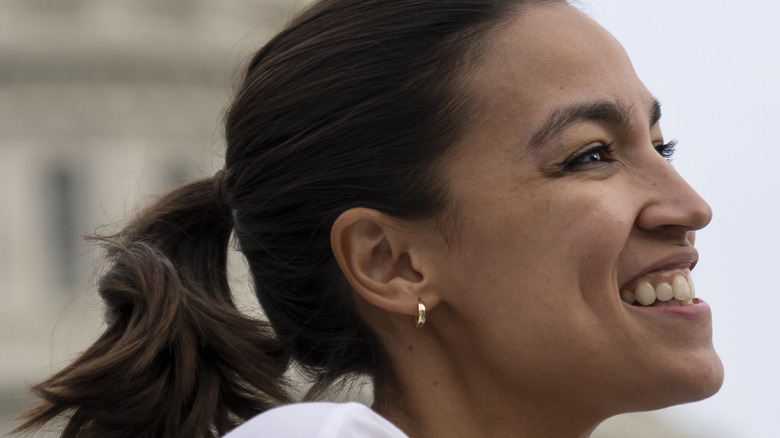 Drew Angerer/Getty Images
On August 2, Simone Biles announced that she was ready to compete again and would do so in the balance beam. That decision ended up winning her a bronze medal, something that actually surprised her. "I wasn't expecting to walk away with a medal," Biles said (via The New York Times). "I was just going out there doing this for me. To have one more opportunity to be at the Olympics meant the world to me."
While Biles made the country proud in Tokyo, Alexandria Ocasio-Cortez was outside the Capitol also making many Americans proud as she supported Congresswoman Cori Bush, who had spent several nights sleeping there in protest of the House not extending an eviction moratorium that the CDC extended on Tuesday night (via The Week). TMZ spoke to Cortez while she was there and asked her for her thoughts on Biles.
"What Simone Biles did in these Olympics, she showed that she's a role model not just as an athlete, but as a leader for all people, especially women. ... We do not have to choose between our performance and ourselves and our health," she said. "Her bravery was a huge example to everybody. And her coming back to win another medal, it showed that her taking care of herself ... it helps you be better in the end."