The Exfoliating Cleanser That Meghan Markle Swears By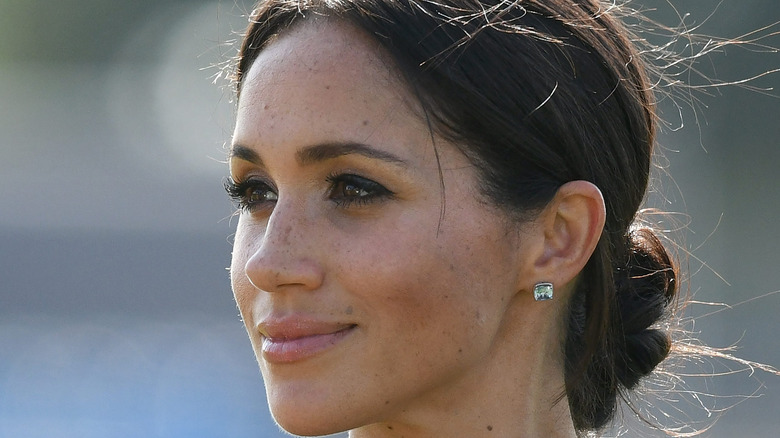 Shutterstock
Meghan Markle's beautiful complexion is one of the features that lends itself to the Duchess looking much younger than her years. And while the media spends plenty of time analyzing all of Meghan's choices from her decision to sit down with Oprah for that now-infamous interview to her decision to raise her children in The United States, they also spend a fair amount of time discussing how she manages to keep herself looking so youthful and glowing, in spite of what most certainly must be a pretty stressful life these days. 
Vogue France tells its readers that Meghan likes to get facials that include facial massage, as she feels it helps to "sculpt the face." When in London, she receives these treatments at Sarah Chapman's institute, which boasts other famous clients like Victoria Beckham. And when in New York, she heads to see Nichola Joss, who also services Scarlett Johansson and Gwyneth Paltrow. 
But since most of us can't afford to see these famous aestheticians, how can we emulate some of her skincare routine? Fear not, we have the answer!   
What Meghan Markle uses to exfoliate her skin
While you may not ever get an appointment at one of the famous spas Meghan frequents in London or New York, you can use the same exfoliating facial cleanser that she uses. Both Meghan and Kim Kardashian have said that they swear by Tatcha's The Rice Polish Foaming Enzyme Powder (via Reviewed). With 1.6 thousand reviews on Sephora and a rating of 4.4 stars, it isn't just celebs who love this cleanser. 
One Sephora reviewer gushed, "Hands down one of the best skincare products I have ever used. The first time I used a sample, I exited the shower and noticed that instead of my usual post-shower blotchiness, my skin tone was even and clear. Now, after a couple of months of using it daily, my skin has never been clearer, more glowy, or healthier looking."
While a jar will run you about $65, that's a whole lot less than a professional facial at a high-end beauty salon!