The Glitter Lip Gloss That Is Good For The Environment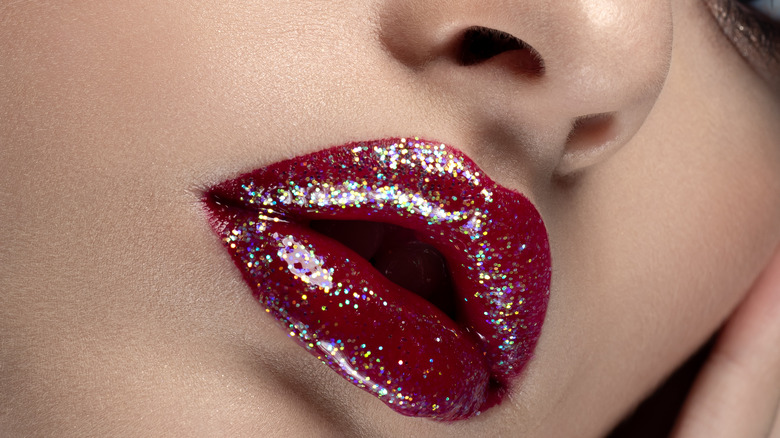 Shutterstock
There's no doubt that the beauty industry has been significantly stepping up its game when it comes to its contributions to preserving the environment. Admirable efforts from many brands like Lush, Love Beauty & Planet, and Ethique include sparing the ocean by reducing the amount of plastic in their packaging, using biodegradable material, and vowing to remain vegan and cruelty free, as noted by Glamour.
Overall, sustainable beauty is all the rage nowadays, and virtually impossible to ignore. The clean beauty industry was worth $11 billion in 2016, and is rising substantially today, per Teen Vogue. However, some cosmetics lovers may worry that these practices interfere with the quality and effectiveness of their products, especially when it comes to pigmentation and payout. And if you're looking for a glitter-fueled look, this is surely the last thing you want.
But don't despair — there are some glitter-heavy products on the market that honor the planet without forfeiting their crucial shimmer. Keep scrolling to learn about the glitter lip gloss that is good for the environment. 
The Dawes Custom Cosmetics Seduction Red Lipgloss balances glitter and ethics
Dawes Custom Cosmetics is a line dedicated solely to lip products. Founded in Las Vegas and manufactured only in the USA, the brand makes sure to never test on animals and uses primarily natural ingredients, according to its website. "We love our animals and would never forsake them in the name of beauty," the site claims. Although they offer a customizable experience with their glosses when it comes to finish, scent, and flavor, there is one universal glittery red lip gloss product on their website for ultimate Sin City vibes.
The Seduction Red Lip Gloss from Dawes Custom Cosmetics is rich with sparkles to spice up any occasion. Its blue undertone suits any skin shade while making teeth appear whiter, while its hydrating base is perfect for those with drier lips. Its frosty pigmented tint doesn't feather or fade and lasts all night, according to its description. Given its loud, glittery finish, The Seduction Red Lip Gloss is not for the faint of heart. It is also made with organic oils and vitamins, and is 100% mineral based, allowing you to shop conscientiously. So, if you're looking for the perfect product to bring to a party, this may be it.