Is Glitter Lip Gloss Safe To Wear?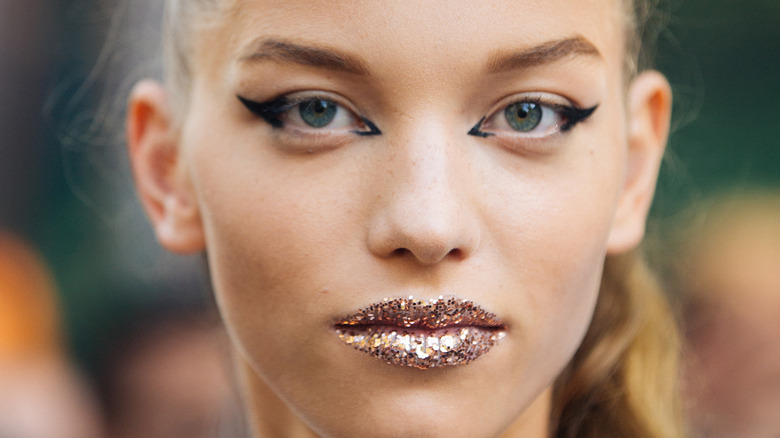 Melodie Jeng/Getty Images
If you're obsessed with glitter — us too — then the chances are that you're loving the summer, festival glitter trend and glitter lip glosses. Whether you want to add a little sparkle to your normal look or you want to create a look that's totally extra, glitter can be the perfect way to do that. According to Beauty Bay, that "90s glitter lip" look is making a huge comeback, and it's easy to see why. What's not to love about lips that glitter, glisten, and sparkle?
As per Bustle, the only issue when it comes to glitter is making sure that you aren't using glitter that could be potentially dangerous. If you're not using the right type of glitter or glitter-based product, or you're not using glitter in the right way, glitter makeup can be dangerous to your overall health. So it's vital that when it comes to adorning your skin with a sparkly sheen, that you know how to use glitter safely.
What makes wearing glitter unsafe?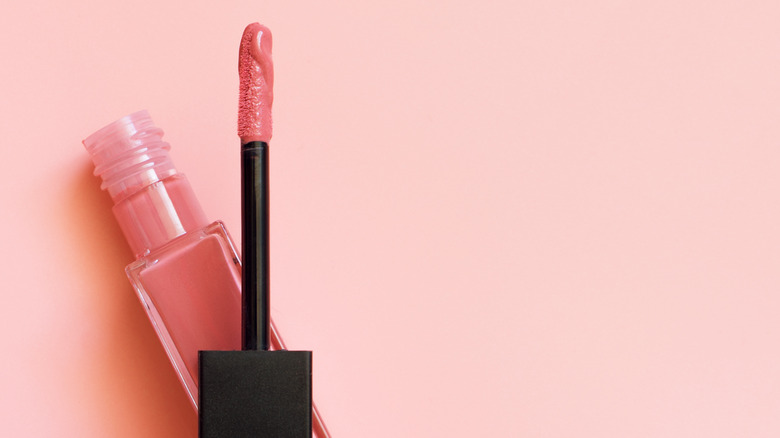 Shutterstock
As per Bustle, the worst thing that you can do when it comes to glittery makeup products, such as lip gloss, is to use craft glitter. Craft glitter isn't cut in the same way that cosmetic glitter is, and it uses a different form of dye — neither the cut or coloring of craft glitter is safe for skin. That's why, if you are going to use loose glitter — such as to add to lip gloss for a glitter finish — it needs to be cosmetic glitter.
As per Eve Dawes, it's best to avoid "plastic or natural MICA glitters that don't break down, look for polyethylene or synthetic fluorphlogopite (aka synthetic mica)" instead. According to Glamour and Gains, these kinds of "microplastics can be found throughout the world's oceans, from the surface to the deep sea floor" and can impact the entire marine bio system. You can still create amazingly glittery lips using eco, plastic-free glitter that doesn't negatively impact the environment. Plus, using the right glitter will protect your overall health and wellness in the long run. 
How can you wear glitter lip gloss safely?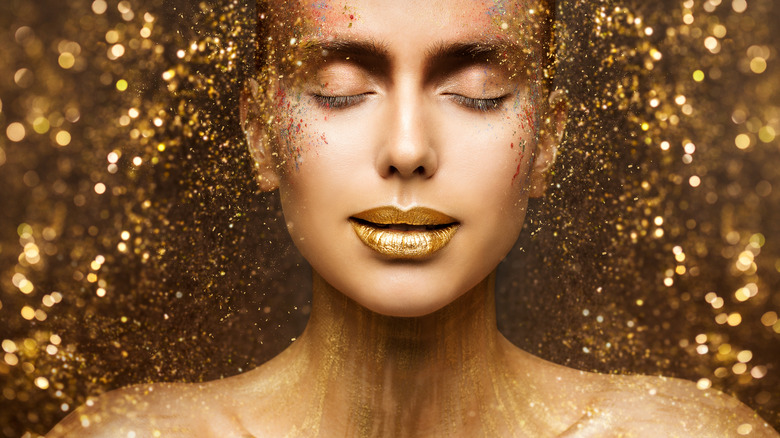 Shutterstock
As per Glitter Girl, there are lots of ways that you can make wearing glitter safe, but it should always "be suspended in something — in a gel, on an adhesive, in a gloss, etc." It's best to avoid applying loose glitter directly to lips or skin, as it won't stick and will fall off. For loose glitter, it's important to use something to keep it in place, such as primer, and as always, just make sure you're using cosmetic glitter. 
Furthermore, if you're looking for a bold look that takes little effort, you may even want to invest in a fantastic glitter lipgloss, according to Beauty Bay. A great way to wear glitter lip gloss safely is to buy a pre-made glitter gloss, instead of going down a DIY route. Beauty Bay recommended the Dose Of Colors Lip Gloss in Jazzy which has a "copper rose base with glitter reflects that change color when they catch the light." Sounds great! Another recommendation is ZOEVA Melody Lipgloss in Spread Your Wings, that has "rich golden" tones and gorgeous shimmers.