The Truth About Billie Eilish's Childhood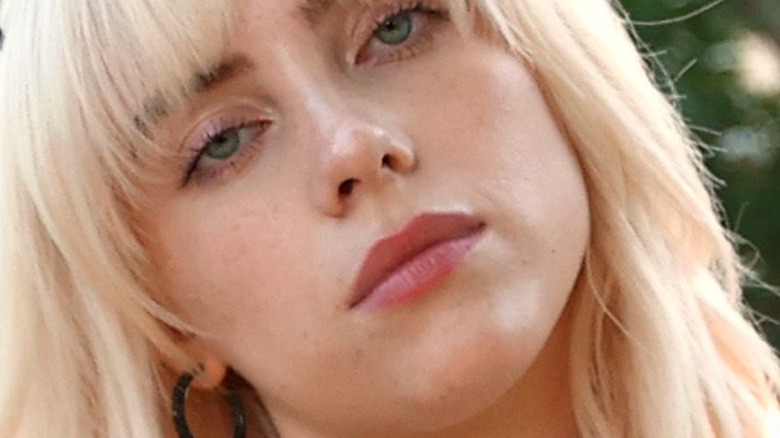 Matt Winkelmeyer/Getty Images
Known for her honest, dark, pop-focused music and her loosely fitting clothing, Billie Eilish is currently one of the most well-known stars in the world. At only 19 years old, Eilish has made a major splash in the music industry. 
Getting an early start, Eilish uploaded her debut track, "Ocean Eyes," to popular streaming platform SoundCloud one evening following encouragement from her dance teacher to create her own music. The morning after she hit the "upload" button, Eilish awoke surprised to find that her song had reached over 1,000 plays in just one day, (via BBC). 
That upload sparked a chain reaction of events that would catapult Eilish to superstardom before the young songstress was old enough to legally drink in a bar. At age 14, Eilish was signed to Darkroom, a subsidiary of Interscope Records, and by age 16 she was taking off on the first headlining tour of her career.
With seven Grammys under her belt (via Grammy Awards), Eilish won't likely be slowing down anytime soon. Having achieved so much success at such a young age, she hasn't lived much of her life outside of the public eye. Before the fame, however, the Gen Z icon enjoyed a creatively charged childhood with her family of fellow musicians.
Billie Eilish grew up in a creative household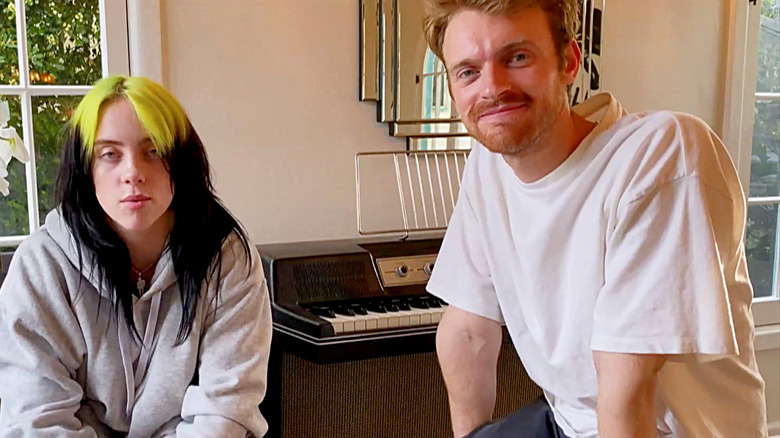 Getty Images/Getty Images
From a young age, was on a creative path. She was born Billie Eilish Pirate (yes, really) Baird O'Connell in Los Angeles, California in 2001 to two actor parents. According to AmoMama, the Baird-O'Connell home was often cluttered with musical instruments and photographs. Her mother, Maggie Baird, is known for her roles on "The X-Files" and "6 Feet Under," while her father, Patrick O'Connell, is easily recognizable from his role on "The West Wing," (via Distractify).
Eilish's parents opted for homeschooling for Eilish and her older brother, Finneas, leaving the budding star with ample time to develop her craft. At the young age of eight, Eilish honed her vocal talents as a member of the Los Angeles Children's Choir, (via All Music). At age 14, Finneas helped Eilish write and produce the song that jumpstarted her musical success. In their household, creativity and careers in the music world were encouraged.
Billie still lives with mom and dad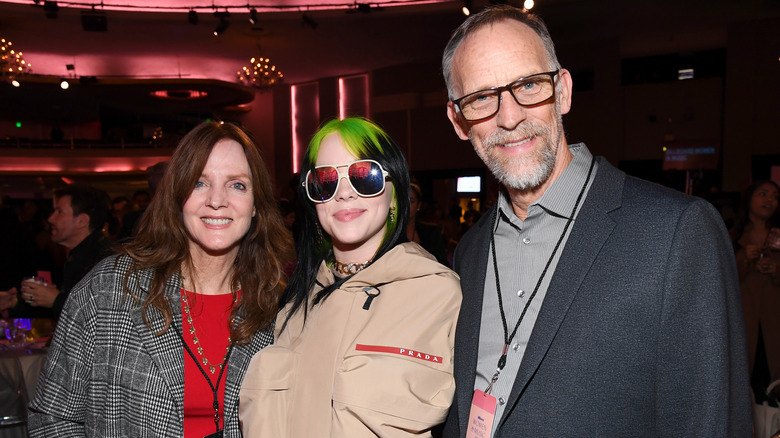 Kevin Mazur/Getty Images
Although Billie Eilish's parents have achieved a bit of their own success in the entertainment industry, you might be surprised to find out that the blue-eyed singer does not come from wealth.\ According to AmoMama, the family lived in a two-bedroom apartment. Maggie Baird and Patrick O'Connell reportedly slept in the living room so that each of their two children could enjoy the privacy of their own bedrooms.
Eilish sought employment at a ranch in exchange for riding lessons, and the home-schooled musician reportedly rarely ventured out for activities other than riding or dance lessons. As a pre-teen, Eilish ruptured a growth plate in her hip while dancing, which prevented her from continuing her dance training. The Grammy winner loved dancing, and, according to the New York Times, this event sparked that depression that would eventually inspire so many of Eilish's songs and make her so relatable to young people experiencing similar issues. 
At age 19, Eilish has surpassed her humble beginnings and cemented her role as a superstar in today's music world. According to Velvet Ropes, she still lives in the same modest two-bedroom apartment with her parents. Finneas has since moved out on his own, so, hopefully, Baird and O'Connell can sleep in a bedroom now.