Everything You Need To Know About The Korean Futuristic Nail Trend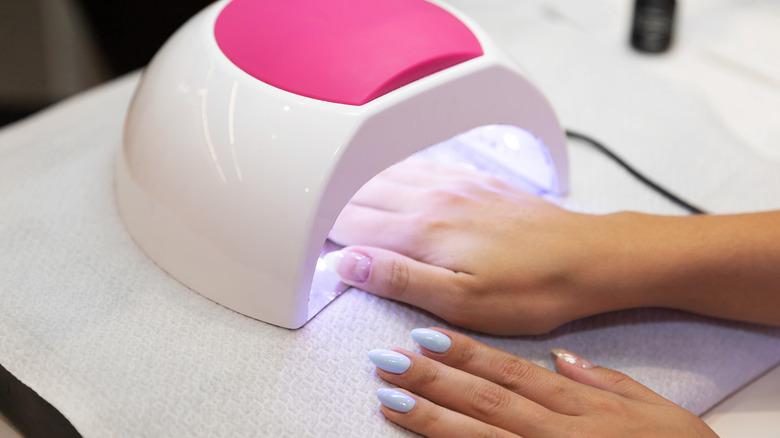 Shutterstock
Produced in the 1980s, "The Jetsons" will forever be the benchmark for futuristic living. According to the popular cartoon show, flying cars, submissive robots and out-of-this-world fashion is the reality to expect in 2062. Jeff Bezos' same day delivery into space and back — and the fact that an actual flying car completed its test run in Slovakia (via the BBC) — might indicate that we're not too far-off from the conjured world.
Borrowing from this aesthetic, a well-known South Korean nail artist began a nail trend that comes complete with a metal finish, according to Byrdie. In fact, this look is reminiscent of the retro-futuristic fashion that Pierre Cardin spearheaded in the 1960s, the outlet notes.  The famed designer's collections uniquely created a cosmos we wanted to be a part of. "I was inspired by satellites. By lasers. By the moon. I look into the future ... My dresses are like sculptures. ... It was more like architecture or art," he told Dazed in December 2020. His vision paved the way for fashion and beauty trends that make us want to visit Area 51 — and this latest nail trend does too.
These futuristic nails are here to stay
South Korean nail artist Eunkyung Park's version of spacey nails feature a thin piece of metal that is molded onto the nail's cuticles and extended for a "caged" look, according to Byrdie. The nail artist also takes metal beyond the boundaries of the nail so that it almost looks like it could be an additional topping layer for ring bling.
When speaking about Pierre Cardin's '60s "retro-futurism style," Charlotte Casey, senior strategist at trend-forecasting agency WGSN, told Fashionista, "While not exclusively utopian, retro-futurism is remembered primarily for its optimistic mood that fused modernist concepts of scientific progress and technology with elements of pop culture and a playful science-fiction aesthetic." This metal nail trend, with its silver "caged" style, most definitely conjures feelings of the space age and the future.
In the closer, more modern landscape of land of TikTok, automated manicures are also making strides; user Elissa Maercklein posted a video of the robot manicure she got for $8 in San Francisco. The future is here — get ready and get your nails done.