The Truth About Clothes Made From Coconuts
Shutterstock
You don't have to be at the beach to be wearing coconuts anymore. Fabric made from coconuts has found its way into mainstream fashion, and is used by brands like Polartec, Adidas, and Under Armor, per The Sustainable Fashion Collective. The Cocona fabric is a potent combination derived from the shell of the coconut and volcanic sand, two items that are "both waste products of the food and water filter industries." Per The Guardian, the material has the ability to stop the fashion industry's reliance on synthetic materials. 
The company that engineered Cocona fabric is called 37.5 — a name that indicates the ideal Centigrade temperature of the human body, according to its website. 37.5 says the fabric's technology adjusts itself to the body's temperature, keeping people cool when they're hot. That means your next hot yoga session could turn into a regular yoga session if you throw on a pair of coconut leggings — an unofficial term that is fun, nonetheless. 
However, 37.5 isn't the only company focusing on sustainable fabric alternatives. Keep scrolling to learn about other edible items that might be making their way into our clothes. 
Oranges might be the next sustainable fabric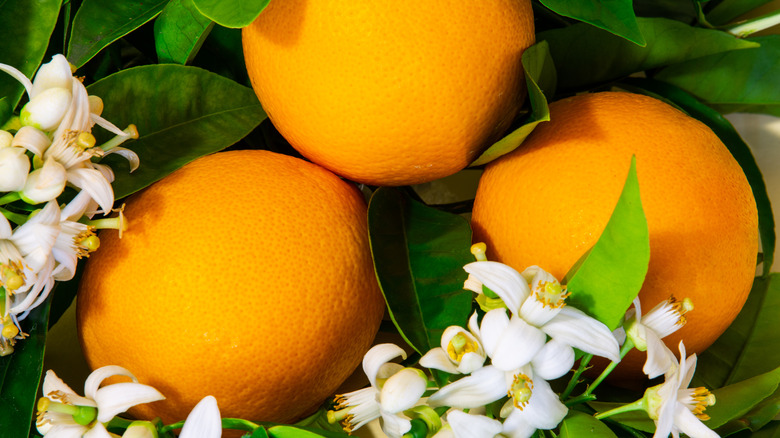 Shutterstock
Australian brand Nanollose created a sweater made entirely from coconut waste and plans to use agricultural waste as a form of cellulose for fabrics. Growing outside the coconut trend, Orange Fiber, a brand based in Italy, turns by-products from citrus juice production into light-weight yarn. This material played a starring role in a collaborative capsule collection for luxury clothing and accessories company, Salvatore Ferragamo, in 2017, per WWD. All of these fabrics are natural and champion sustainability as they're made from plant-based waste materials.
Cellulose-based fibers, as they are known, can be safely biodegraded if the other materials combined with them aren't harmful, according to Independent. Considering that the fashion industry is predicted to use a quarter of the world's carbon budget by 2050, per Down To Earth, these fabrics may point to a more sustainable future for fashion and urge label-cutters everywhere to check what their clothes are actually made of. 
If you need a little help learning more about sustainably made clothing, apps like Good On You give ethical brand ratings based on their sustainability initiatives as well as labor policies. If there is one takeaway, it's that you can eat your fruit, but you can wear it too.