Did Prince Harry Inspire Meghan Markle's Birthday Video?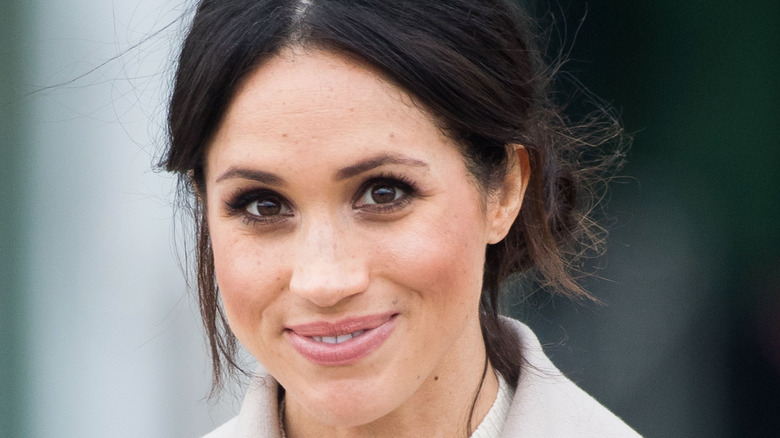 Shutterstock
Meghan Markle marked a major milestone on August 4, 2021 when she turned 40 years old. The Duchess of Sussex even got to celebrate the occasion in her home state of California rather than in Great Britain, as she and Prince Harry left their royal duties in 2020, eventually settling in a multi-million dollar Southern California home (via Variety).
In honor of turning 40, Markle released a video message on her birthday for the world to see that was very unroyal-like and actually quite comedic, as she was joined by her friend, actress Melissa McCarthy, playing a Rubik's Cube.
You can see Markle dressed casually in her Montecito home with Harry goofing off outside the window. McCarthy later returns to the video dressed much like Harry's grandmother, Queen Elizabeth, with white satin gloves, pearls, a floral frock, and a cup of tea. Despite the light tone seen at the start of the video, Markle gets a little more serious and asks for 40 people to give 40 minutes of their time to mentor women re-entering the workforce after COVID-19 costs so many women their jobs since 2020 (via Today).
Royal watchers believe Prince Harry's playful nature helped create the video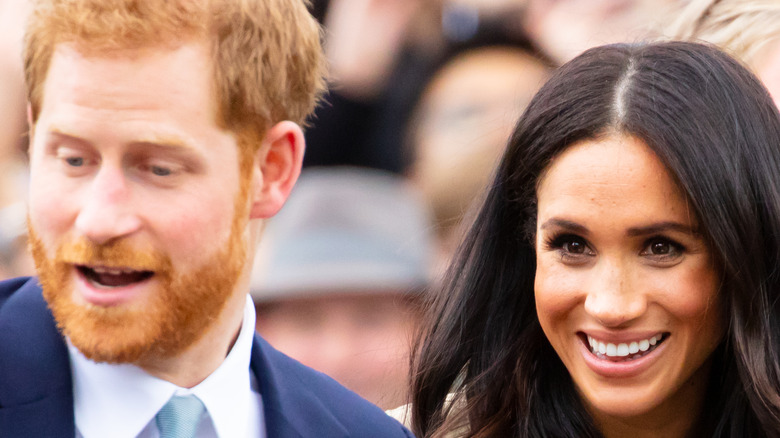 Shutterstock
Language expert Judi James analyzed the video for Express and determined that Meghan Markle was trying to present a sense of "U.S. royalty" with the way she dressed and set the scene.
"Presenting very much as 'U.S. royalty' here, with her huge desk complete with family photos and sitting in front of the large fireplace wearing her own meaningful jewels around her neck, Meghan's elegant styling and status signals look rather like 'Buckingham palace meets Spa break,'" James told Express. "Meghan's set-up is, of course, cool, calm and modern, but with the dog asleep on a cushion and Harry up to his usual pranks outside the window, there are similarities in setting here to one of the Queen's video messages."
One of those similarities is Harry himself outside the window horsing around, something he would introduce into the Queen's videos in recent years to show that the British monarch also has a fun side.
"It was Harry of course who famously involved the Queen in some comedy appearances that showed her more fun side, with their Olympic video and stunt being the most famous," James added. "Here it seems he might just have nudged his wife into doing a similarly comical message, perhaps knowing that having a self-effacing sense of humor comes high up on the list of what makes us likable by the public."