Why Donald Trump's Latest Political Move Has Twitter In Hysterics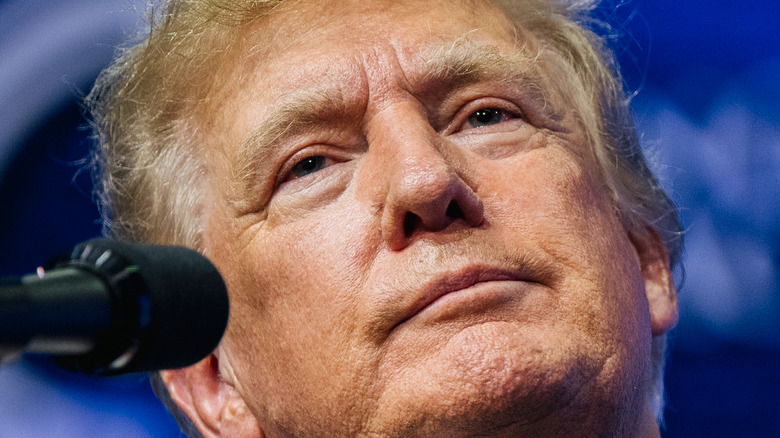 Brandon Bell/Getty Images
It would seem as though former President Donald Trump doesn't need his Twitter soap box to find ways to get the public talking about him – but this time, it's for a pretty monumental blunder.
The former POTUS has truly one-upped himself this time with yet another Orwellian suggestion that we can't help but scratch our heads at. On Wednesday, August 4, Trump sent out an email to his supporters – a pretty solid mode of communication for the Twitter and Facebook-less business mogul  - in order to share his latest and greatest ideas. According to Business Insider, Trump asked his fans to choose which "Trump Card" design they wanted. Apparently Trump and his supporters have passed the point of if they should even do this at all, and are instead focusing on how they want to customize said cards.
Despite the variety pack of design choices available, the "Trump Cards" all appear to have the same basic premises: They're red and gold in color, all with Trump's signature on them as well as a choice of American flag or America eagle images. In one of the emails sent to the supporters, it was explained that only one design was originally intended to be released, but Trump couldn't decide which design he liked best. "When President Trump saw the cards on his desk, he said, 'These are BEAUTIFUL. We should let the American People decide – they ALWAYS know best!'"
Here's what Trump says the cards are for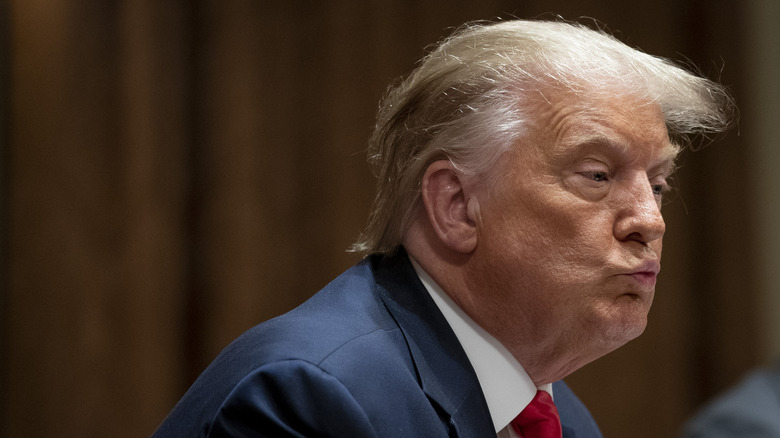 Pool/Getty Images
Wondering what the cards are for? You're not alone. According to the emails sent by the Trump Administration to supporters, the "Trump Cards" are "reserved for President Trump's STRONGEST supporters." Furthermore, the emails add, "The card you select will be carried by Patriots all around the Country. They will be a sign of your dedicated support to our movement to SAVE AMERICA, and I'm putting my full trust in you," per MSN.
The Trump Administration certainly put time into the various designs available to supporters. But unfortunately, it doesn't appear as though the same time and care was put into copy editing the cards, as one of them misspells the world "official" as "offical." Hopefully the former president doesn't take the news too hard – but we're sure he won't, as he's stellar at dealing with the aftermath of public typos (via The Daily Beast).
Unsurprisingly, Twitter is having quite the field day with the news of this epic spelling blunder. One user wrote, "You know it's a trump card when "official" is spelled wrong on one of the cards." Another user expressed their anger towards the cards, writing that "Trump cards are alarming, and infuriating."
Others are sharing that they'd rather carry around their vaccinations cards than a "Trump Card."