Joe Biden's Surprising Dig At Ron DeSantis Has Twitter In Stitches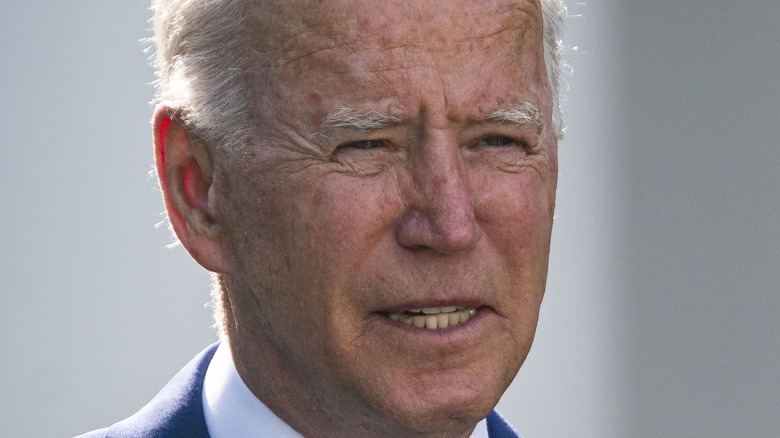 Bloomberg/Getty Images
In case anyone's missed it, there is a war of words brewing between President Joe Biden and GOP governors who have steadfastly refused to consider imposing stricter measures against the spread of COVID-19. While Biden has been careful not to call anyone out, specifically, he seemed to have finally gotten exasperated earlier this week, when he admonished them by saying, "I say to these governors: Please help. But if you aren't going to help, at least get out of the way. The people are trying to do the right thing. Use your power to save lives" (via Washington Post).
His words struck a raw note with Florida Governor Ron DeSantis, whose state is among seven — along with Texas, Missouri, Arkansas, Louisiana, Alabama, and Mississippi — that account for 50% of new COVID-19 cases and hospitalizations (via Reuters). DeSantis fired back at the president by saying, "If you are coming after the rights in Florida, I am standing in your way" (via Local10).
Biden has since refused to throw kindling onto the raging fire, and he side-stepped a question from reporters who wanted to know if he had a reaction to DeSantis' comeback by replying, with a smile, "Governor Who? That's my response" (via Business Insider).
Twitter was there for the subtle shade that President Biden threw at Ron DeSantis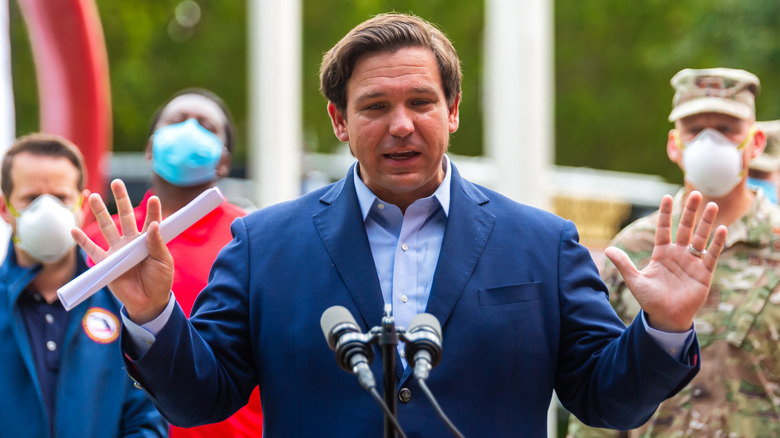 Shutterstock
Twitter was there for the subtle shade that Biden threw at DeSantis. A few posted gifs of the president in his trademark aviators. One user wrote, "He's toying with DeSantis at this point. Why? Because he knows in the court of public opinion, DeSantis is fully to blame for the crisis in Florida, not him."
Another wrote, "Hurricane Season is just starting up #GovernorWho. You'll need @fema."
Others reminded DeSantis that he was singing a different tune just a few weeks ago: "DeSantis didn't have anything bad to say when Biden made sure the federal government covered the costs when the building collapsed in Florida."
A third even took the opportunity to take a dig at Biden's predecessor, tweeting, "God, it's sooooo nice to have someone who can deliver an insult with a sense of humor rather than go on and on about what a nasty person that is for months ... even years (Women's Olympic Soccer Team). No anger. No name calling. No childish berating. Just a simple, "Who?"
But a few chose to take Biden's words literally and tried to turn the tables on him. One appeared to defend DeSantis by attacking the president, writing, "NO!! He said, 'Governor Who' because he had no idea who he was, or anybody is anymore ..."
Levity aside, the president has reason to worry. As Reuters reports, Florida is now the country's new coronavirus hotbed, with more than 12,000 hospital beds now occupied by patients suffering from COVID-19. Florida also has more children hospitalized with the coronavirus than any other state, as schools get ready to reopen in a few weeks.