Donald Trump Had Harsh Words For Andrew Cuomo Amid Recent Controversy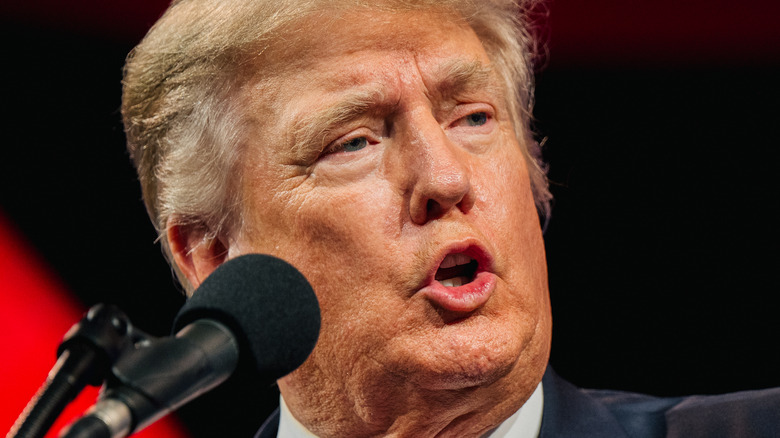 Brandon Bell/Getty Images
Donald Trump may have been banned from social media platforms since January 6, 2021, but that doesn't mean he's still not out there in Republican political circles speaking his mind whenever he can. On August 5, the former president attended a New York State Republican Party fundraiser at his own golf course in Briarcliff, NY and took aim at New York Democratic Governor Andrew Cuomo (via The New York Post), who has been coming under fire for sexual harassment accusations alleged in a 165-page report from the state's attorney general, Letitia James.
In her report, James concluded that Cuomo "sexually harassed multiple women and in doing so violated federal and state law" (via CNBC). Multiple officials have called on Cuomo to resign, including New York Senators Charles Schumer and Kristen Gillibrand, as well as President Joe Biden. The New York State assembly has also said it intends to impeach the governor (via Politico), something Trump is familiar with, having been impeached twice during his presidency. Trump has also been accused of sexually assaulting women in the past, but that didn't stop him from speaking out against Cuomo.
Donald Trump sees Andrew Cuomo's problems as a win for Republicans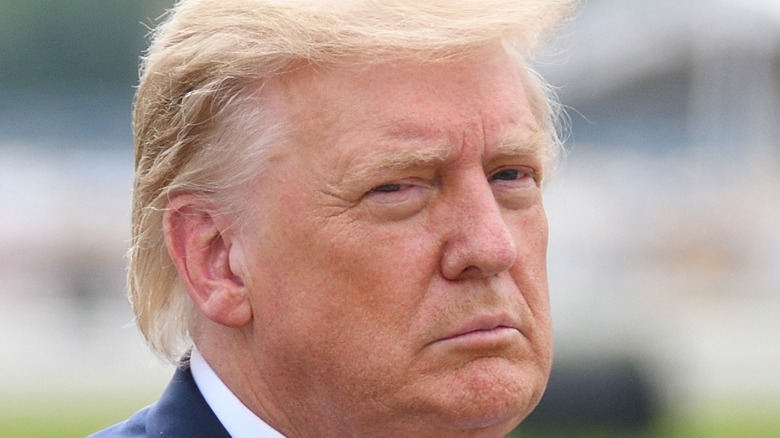 Shutterstock
Donald Trump gave a shout out to the New York State Senate Minority Leader Robert Ortt, saying he is going to have a "great time" when Andrew Cuomo's impeachment trial gets underway. (An impeachment trial is not yet scheduled nor confirmed.)
"Cuomo's got real problems," Trump said at the Trump National Golf Course Republican event, according to New York Post sources. "It's going to be a hot couple of weeks in Albany. Cuomo has found himself in an interesting situation." He also added that his native state would soon have a Republican governor.
Trump also made sure to criticize the governor's handling of the coronavirus, saying he was "horrible on COVID." New York was the first state to get hit hard when the pandemic made it to the United States in 2020 and he and the governor frequently argued back and forth, with Cuomo wanting more help from the federal government to deal with overwhelmed hospitals that were short on beds, staff, and personal protective equipment. According to the New York Post, Trump took the time to say he didn't believe Cuomo properly used the USS Comfort, a hospital ship the government sent into the waters surrounding New York City.