Are Jessie J And Nicki Minaj Feuding?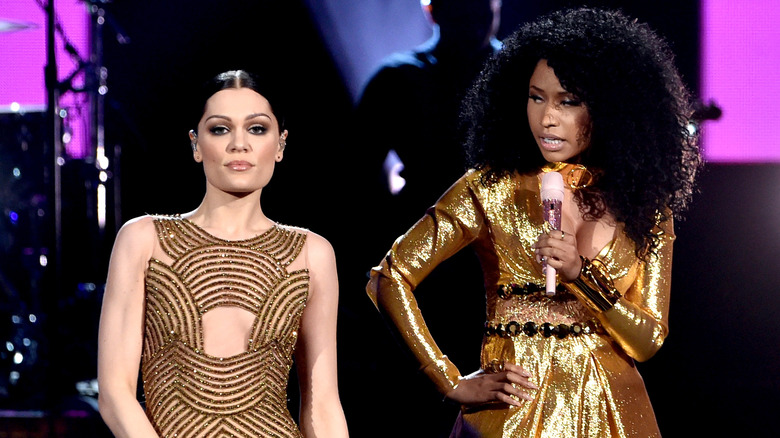 Kevin Winter/Getty Images
Rap superstar Nicki Minaj has hit back at Jessie J's claim that she had asked to be featured on the 2014 hit "Bang Bang."
According to The Daily Mail, the pair collaborated on the track alongside Ariana Grande and on Thursday, August 5, Minaj took to social media to clarify what Jessie had said about the curation of the song during an interview with Glamour. 
Speaking to the publication, the "Do It Like a Dude" hitmaker spoke in-depth about five of her biggest tracks. Revealing how the 2014 smash "Bang Bang" came to life in the studio, Jessie explained how she and Grande had agreed to collaborate on the song after it had been previewed for them. "We both loved it. We just said, 'Why don't we both do it?' So Ariana stayed on the second verse, I recorded the first verse," she commented.  
Speaking to Glamour, the singer went on to claim, "then Nicki was played it in the studio and was like, 'I've got to jump on this.' We didn't go to her and ask; she wanted to do it."
Nicki Minaj hit back at Jessie J's claims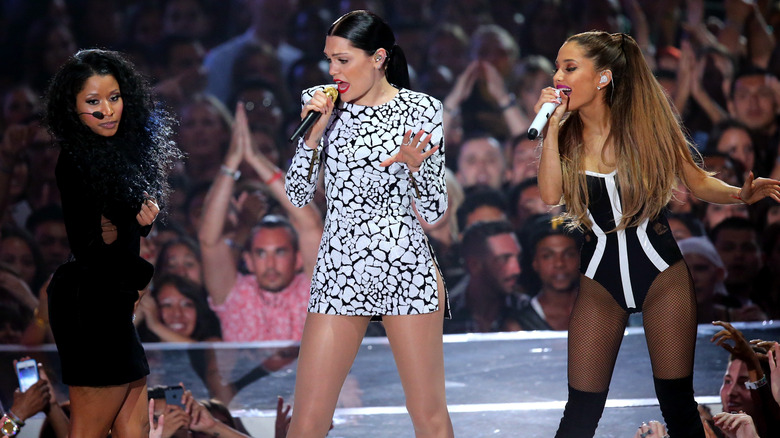 Mark Davis/Getty Images
However, Jessie's version of events did not sit well with the "Monster" rapper, who addressed the singer's recent interview on Twitter and denied that she had ever asked to be included on "Bang Bang."
Along with a screenshot of Jessie's Glamour article, Minaj wrote, "Babe @JessieJ I didn't hear the song & ask 2get on it. The label asked me2get on it & paid me. How would I have heard the song? chiiille what am I the damn song monitor? Snoopin around for songs chile? This was said by another artist recently as well. Yall gotta stop Love U."
At the time of writing, Jessie is yet to respond to the rapper's tweet. However, fans of both entertainers were quick to weigh in on the drama. "Nicki delete you know she didn't mean it like that..," one Twitter user wrote, while another fan writing in defense of Minaj tweeted, "I'm just concerned, how is this rude or bitter ? She literally just gave misinformation on Nicki and she cleared it up as she should have . Y'all find this unnecessary but y'all cheer these other female rappers."
Despite their recent disagreement, the song proved to be a huge hit for both Jessie and Minaj back in 2014 and reached number three on Billboard Hot 100 (via The Daily Mail).