Why The Reopening Of Disney's Hall Of Presidents Has Twitter Talking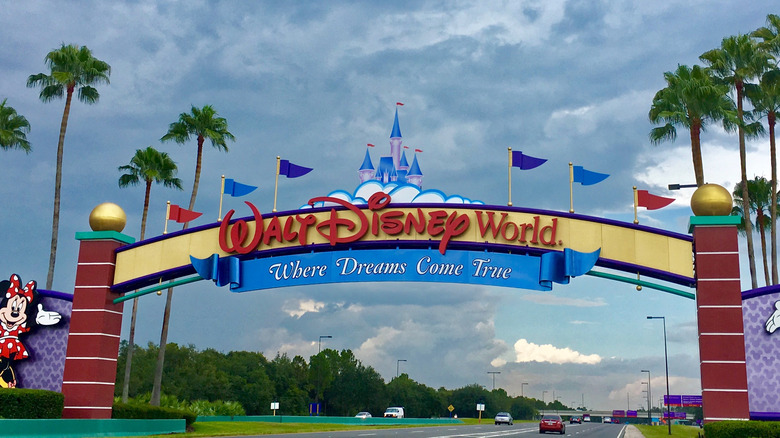 Shutterstock
If you happen to be a history buff and a Disney fan, there's a seat at this attraction in Walt Disney World's Magic Kingdom Park with your name on it. The Hall of Presidents, which was built in 1971 to honor all the presidents of the United States, has reopened after a brief refurbishment and features a new wax figure — that of President Joe Biden — who was sworn into office in January 2021. Biden is seen reciting the oath of office after he is introduced by founding father George Washington (via SFGate).
The addition of president no. 46 in and of itself is not exactly news; after all, each and every president has his moment in the spotlight literally — because they each take a turn by bowing slightly when their names are called. But what has set off supporters of Biden's predecessor, Donald Trump, is that Biden's figure was unveiled just months after inauguration day. By contrast, it took close to a year before Trump made his debut (via NPR), and even then, there were those who weren't exactly thrilled by the likeness. Movie producer John Cohen had pointed out back in 2017 that, "Trump robot in the Hall of Presidents looks like a 71-year-old Chucky doll."
The speed at which Biden's statue appeared displeased Trump supporters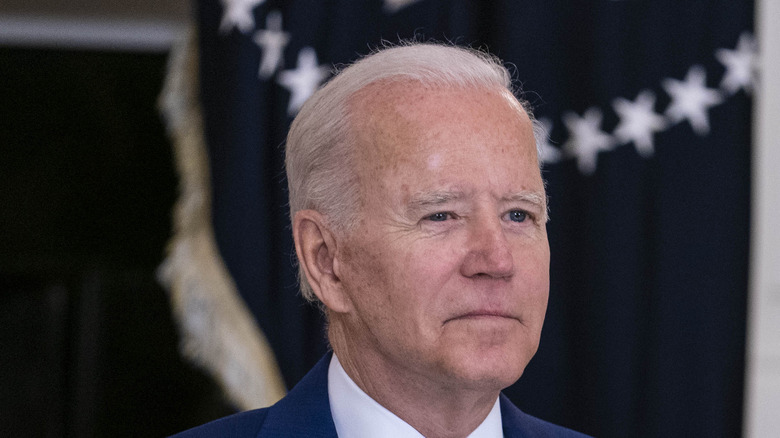 Bloomberg/Getty Images
Donald Trump acolyte Kayleigh McEnany, who served as his press secretary, even decided to take a swipe at the display while appearing on Fox News, highlighting the included state flower from Delaware, the peach blossom, calling it "a rather boring special item." She also said the exhibit could have other items on display. "I was going to guess... I don't know... chocolate chip ice cream, note cards, one of those items might have worked as well," (via Twitter).
Social media was there to roast Fox News for even spending time talking about the exhibit. "I've been to Disneyland and DisneyWorld about 200 times over the last 30 years. I've never set foot in the hall of presidents and don't have any plans to ... but, i'm very grateful that Fox News has the time to worry about this for me," one social media user sniffed. 
Others took the opportunity to throw some criticism at both Fox and Trump. "I can't f***ing believe this is what AN ENTIRE PANEL OF HUMAN ADULTS is spending their time seriously discussing on national tv. I mean, this is what they have to talk about? Some freaky a** robots in Disney & Biden's disappointing 'special item.' This is real. Not parody. Real," another user fumed. A third pointed out what she felt was the absurdity of the conversation by tweeting a gif of a child throwing a tantrum, with the caption, "I swear it's primary school." 
Meanwhile, as noted by SFGate, Trump's animatronic figure has since been relocated within the Hall of Presidents. As of publication, his figure is positioned in the back row of the display, and is largely cast in the dark.