The Heartbreaking Death Of My 600-Lb Life Star Gina Krasley
Gina Marie Krasley (nee LeMehaute), who you might know from TLC's season 8 of "My 600-lb Life" — or as the TikTok personality behind the "dancing has no size limit" trend — died on Sunday, August 1, 2021. She was 30 years old. According to her obituary, Krasley was in her New Jersey home at the time of her death and surrounded by family. Krasley's family noted that the reality star aspired to one day open a dance studio for special needs children.
After leaving "My 600-lb Life," Krasley sued the production company alleging that the company had intentionally caused her distress for entertainment purposes (via Starcasm). She additionally accused the production company of encouraging her to overeat for drama. 
A Youtube update from late March 2021 showed Krasley weighing in at just under 400 pounds. A month later, she tragically announced to her Youtube followers that she was in rehab and that the rehab facility had also promised a therapist for her eating disorder. Due to the disorder, Krasley reported that she had lost so much muscle in her legs that was no longer able to walk. The "My 600-lb Life" alum also announced the loss of muscle functions in her hands. Krasley left rehab after three weeks, telling her followers that "the facility did not help me at all" (via Youtube).  
Gina Krasley's heartbreaking last update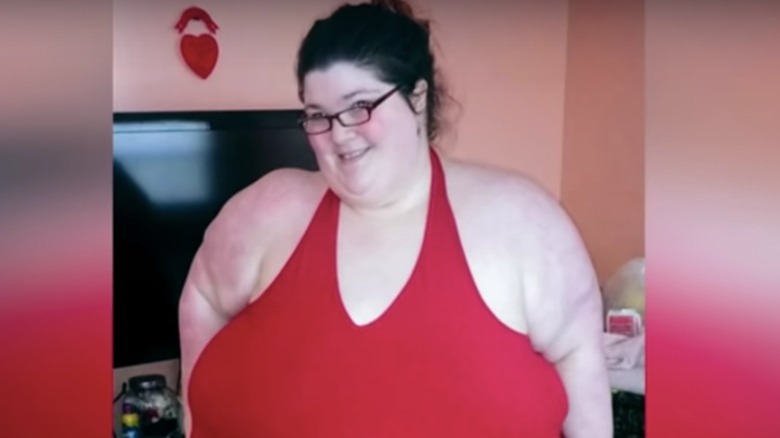 In late June 2021, two months after entering rehab, Gina Krasley gave her Youtube community another update as to her physical and mental health journey. While the "My 600-lb Life" star was still unable to walk — and had yet to recover feeling in her hands — she informed her followers that she was working with a dietician, drinking protein shakes, and felt "more awake." In her Youtube video, Krasley says, "I've been doing okay, I'm just trying to stay positive, but i know I'm strong, and I know I can get through this." She further reminded her followers, "always remember you're worth it, you're good enough." She gave no further updates as to her health after late June.
Krasley's obituary does not list the cause of her death. Her family is requesting that attendees of her August 8th funeral ceremony wear Krasley's favorite colors: pink or purple. 
If you or anyone you know is struggling with addiction issues, help is available. Visit the Substance Abuse and Mental Health Services Administration website or contact SAMHSA's National Helpline at 1-800-662-HELP (4357).
If you are struggling with an eating disorder, or know someone who is, help is available. Visit the National Eating Disorders Association website or contact NEDA's Live Helpline at 1-800-931-2237. You can also receive 24/7 Crisis Support via text (send NEDA to 741-741).