Why Taking A Bath Is A Great Activity For Brain Health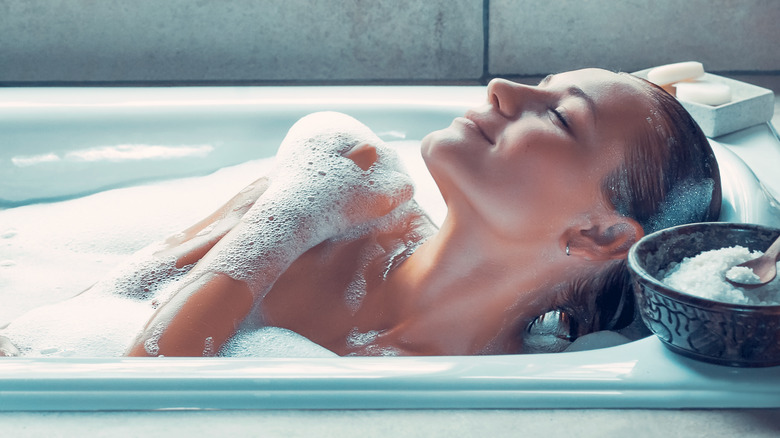 Shutterstock
It's no secret that bathing is about more than just personal hygiene — in fact, it's literally one of the most relaxing forms of self-care. But did you know that baths facilitate more than just a place of relaxation? Bath-taking has proven to be quite beneficial to our health in ways that you probably didn't even know. Whether it's a quick in-and-out bath, or a long, luxurious soak, however you do it, your body — and your mind — will thank you.
Studies show that submerging your body can be a form of therapy, akin to the likes of hydrotherapy. Verywell Health explains hydrotherapy as the use of water, either internally or externally, for health purposes. Hydrotherapy can take the form of saunas, steam baths, foot baths, contrast therapy, sitz baths, and colonic cleansing, per the outlet. Furthermore, submerging your body has been shown to reduce pain and inflammation of the body, as well as calming the nervous system (via Pentucket Medical).
Can taking a bath help with memory?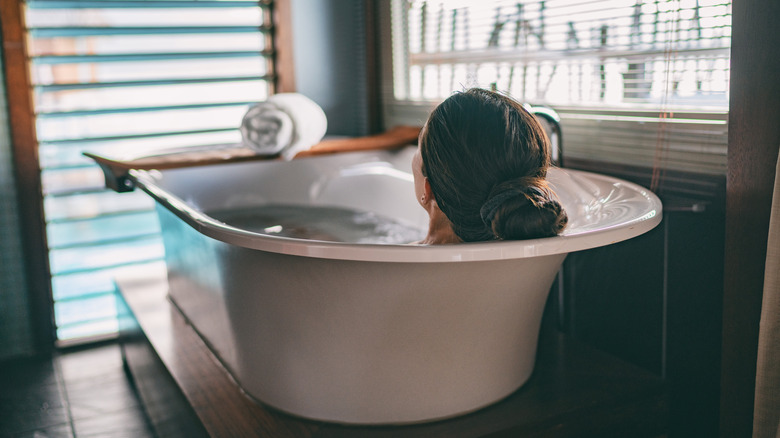 Shutterstock
In addition to the incredible benefits that baths give our bodies, they also play a role in our mental and brain health. Peter Bongiorno, ND, LAc, per Psychology Today, explained that bathing can actually have an effect on the chemicals in our brains. "Decreases in stress hormones (like cortisol) have been reported with water bathing," Bongiorno explained. "It has also been shown that water bathing may also help the balance of the feel good neurotransmitter, serotonin." In addition, according to Prima, bathing can improve blood circulation through neck-depth immersion in warm water, which experts believe "enhances brain blood flow that may improve brain functions, including cognition and memory."
As for getting your bath to the perfect conditions, there are a few unmissable steps. First and foremost, get your bath warm — experts suggest around 104 degrees Fahrenheit. This is the ideal temperature to "ease physical tension, relax anxious muscles," and to even address digestion problems and low blood sugar (via Happiful). You can also add essential oils to your bath, such as lavender, lemon, and eucalyptus, all of which offer their own health benefits such as headache treatment, bettering mental health, and opening the nasal passages, per Healthline.
To truly benefit from the mental respite of a nice relaxing soak, try lighting candles, mediating, and avoiding screens.