Meet Joanna Shimkus, Sidney Poitier's Wife
Mark Davis/Getty Images
Sidney Poitier's career is draped in history. Considered a legend in Hollywood, Poitier is credited with bringing much-needed diversity to the industry in 1950 when he starred in a leading role in "No Way Out." By 1963 he was the first Black actor to win an Oscar for his role in "Lilies of the Field," according to Variety.
But it was his decision to accept a role in "The Lost Man" that changed the film actor's life forever. It was on the film set where the Academy Award-winner met his future wife, Joanna Shimkus, a fellow actor who was drawn to Poitier while filming the movie, per Closer Weekly.
Poitier married Shimkus in 1976, over a decade after divorcing his first wife, Juanita Hardy in 1965 (via Women's Health). The couple has been married for more than four decades and counting, which is some type of record by Hollywood standards.
So who is the woman behind the man? Let's Meet Joanna Shimkus, Sidney Poitier's wife.
Joanna Shimkus' first credited role was in 1964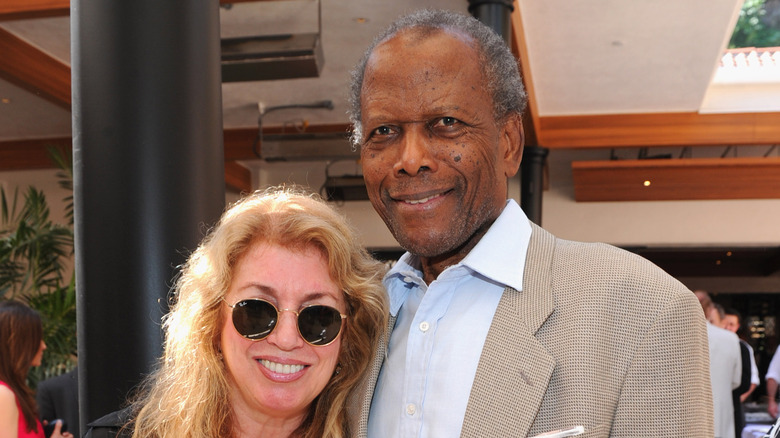 Alberto E. Rodriguez/Getty Images
Born in Nova Scotia, Canada, Joanna Shimkus began her acting career years before meeting future husband Sidney Poitier. According to IMDb, Shimkus had appeared in "All About Loving" in 1964, "Zita" and "Boom" in 1968, and "A Time for Loving" in 1972. She appeared to take a break from acting by 1972, as she did not appear on screen again until 2010 in the short "Yard Sale," and then in "The Force" in 2018.
Shimkus' break from acting appears to have coincided with the birth of the couple's first daughter Anika in 1972, followed by the birth of their second daughter Sydney in 1973. Both children have gone on to work in the industry as adults: In 2011, Anika directed "Black Irish" (on which Shimkus served as executive producer, per IMBd) and Sydney appeared in "Veronica Mars," as well as Quentin Tarantino's "Death Proof (via the Los Angeles Times).
Joanna Shimkus on acting as a career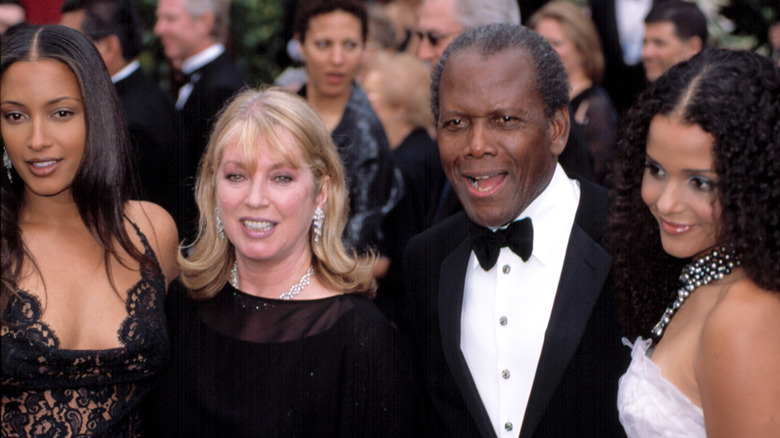 Shutterstock
Unlike her daughters who followed in their parents' footsteps, Joanna Shimkus did not consider acting to be a lifelong gig. Prior to marrying Poitier, Shimkus was a model pursuing acting for no other reason than because it was "better than being in an office," according to the St. Petersburg Times. She said in part, "I'm not running down acting as a career. Far from it. It's a great career. I just wish it was a great career for me."
While it is not clear whether or not Shimkus still considers acting just a means to an end, it is clear to outsiders that her love for the "To Sir, With Love" actor is unfaltering. Poitier told Closer Weekly, "There is one key ingredient my wife has helped me to recognize over the years, and that is the importance of articulating love for one another on a daily basis."