How Prada Is Bringing Back Grunge Style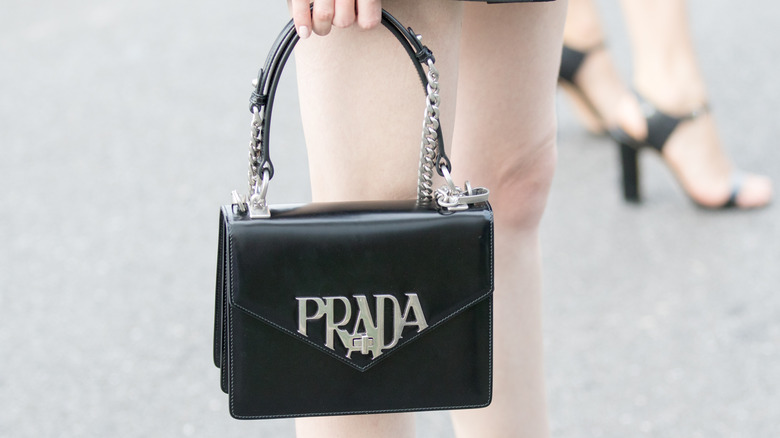 Shutterstock
At first glance, Miuccia Prada and Raf Simmons' Fall 2021 collection for Prada is overwhelmingly colored by hues of gray and black. A second look will reveal a flurry of graphic prints, chunky shoes, and sequins concealed between layers of coats and suits. This is the second womenswear collection envisioned by the two, after Raf Simmons was appointed co-creative director along with Miuccia last year.
The collection seems to borrow its colorful patterns and sequins from the '80s, but the runway also brings back another popular aesthetic from that decade. An update on old-school grunge is possibly an accurate description of Prada's newest reveal. Oversized silhouettes hang loose about models as they stomp about in stocky boots, while Prada classics like cocoon coats and suiting take on casual avatars with unshapely accessories. Every layer contradicts the other, but leave it to Raf Simmons and Miuccia to make it look effortlessly chic.
Grunge is making a comeback
"This collection explores the space that exists between conventional polar opposites — the point between simplicity and complexity, elegance and practicality, limitation and release, transmuted, " the notes for Prada's FW 2021 womenswear show explain. "Inspired by the idea of change and transformation," the creative directors hope their "evening-gowns become utilitarian jumpsuits," and every look has a functional form that allows the wearer to choose who they want to be that day.
Whatever they choose, they're going to be comfortable. Some of our favorites were the sequined coats draped over baggy black pants, second-skin psychedelic jumpsuits, and floral knits carelessly worn under black dresses — all encompassing a modern take on grunge (we're not sure Kurt Cobain would have sported these looks, though) that we may see soon.
Currently, however, we're taking inspiration from the 2 billion views on TikTok for grunge, featuring hauls and mini-dress vlogs that will keep us satiated until the looks from Prada come out. If you're still unsure on how to incorporate grunge into your current wardrobe, keep this handy guide bookmarked!