The Truth About Pierce Brosnan And Keely Shaye Smith's Marriage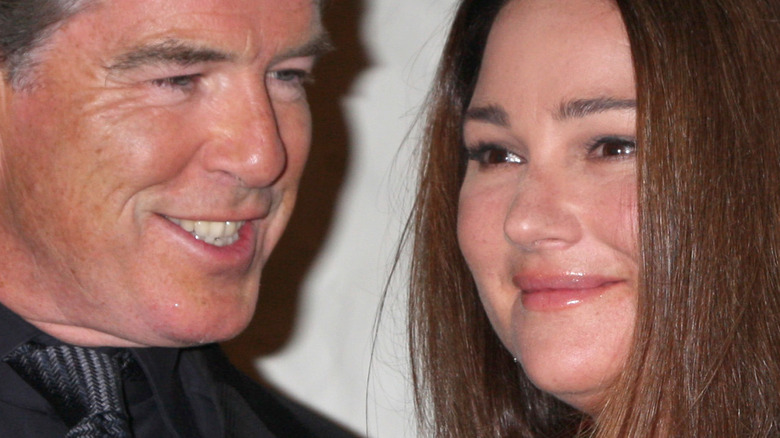 Shutterstock
James Bond may be quite the ladies man, but one actor who has played 007 has kept his sights set on only one woman for quite some time: Pierce Brosnan. Pierce Brosnan and his wife Keely Shaye Smith are serious marriage goals, with the pair having just celebrated their 20th anniversary in 2021.
While you may know Brosnan from his roles in blockbusters, including "Mrs. Doubtfire" and "Mamma Mia!," his wife may have escaped your notice if you don't watch the news very often. But Smith was a successful TV correspondent and journalist long before she was walking the red carpet with her A-List husband. The happy couple first met when, in 1994, they were both in attendance at the same party (per Parade). Smith was there in Cabo San Lucas, Mexico, with the intention to interview actor Ted Danson. When Danson wasn't able to make it, she met Brosnan and the two got talking. From there, the rest was fireworks and magic for years to come. The two went on to marry in August 2001 in a wedding in Ireland, and now share two adult sons (per Hello!)
Speaking with People about their meet-cute, Smith raved about her now-husband. "He was captivating. Tall, dark and handsome — everything that everybody would immediately be attracted to," she said. "He had this mischievous sparkle in his eyes. I thought, 'Wow! Wow!'"
Brosnan: When Keely looks at me, I go weak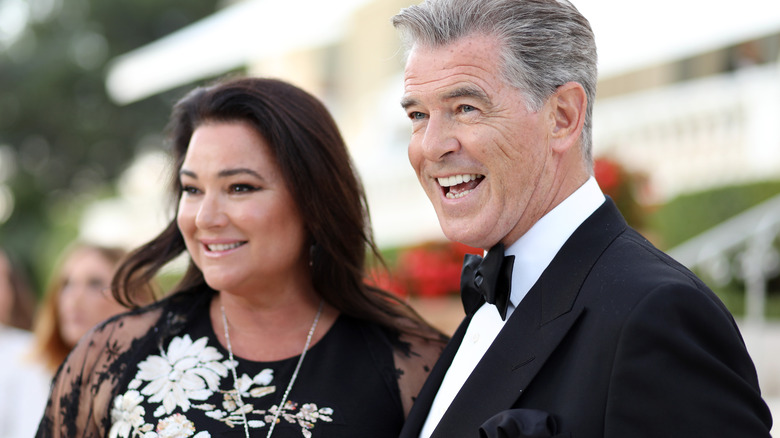 Tristan Fewings/amfar/Getty Images
After their meet-cute in 1994, Pierce Brosnan and Keely Shaye Smith went on their first date not long after. Speaking to People in 2001, Smith recalled, "I understand why women find him sexy, because he is an appealing man. He really likes and appreciates women."
That first date was the beginning of a beautiful love affair that has lasted long after Brosnan became an international heartthrob as James Bond in "Goldeneye." Their bond wasn't broken by the time apart. "Wherever I went in the world I missed her, and I'd send her tickets to come so we could be together," Brosnan told People in 2017. "We just seemed to fit."
Even today, the couple appears blissfully in love. In an interview with The Independent, Brosnan shared his admiration for his wife. "She has this strength that I wouldn't be able to live without," he said. "When Keely looks at me, I go weak."
The two recently celebrated an anniversary and Brosnan documented the moment with a sweet Instagram post of a throwback photo of the two of them and a current snapshot. "Happy anniversary my darling Keely, my love forever grows with you," he captioned the post.