Celeb Court Outfits That Left People Talking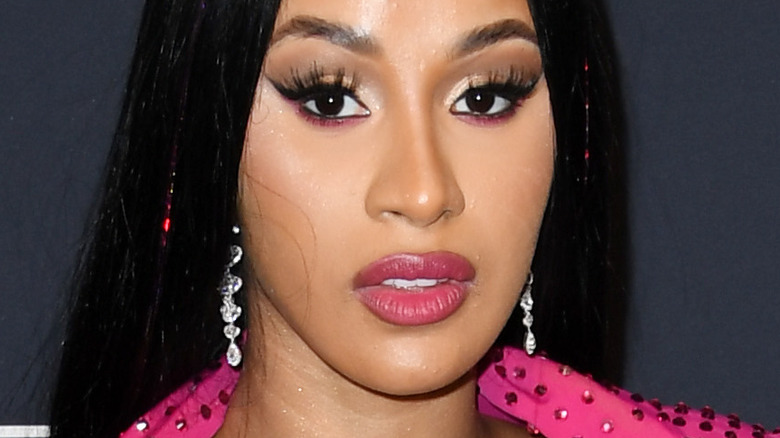 Jon Kopaloff/Getty Images
Runways leading to the courtroom aren't common, but they are known to spontaneously emerge when celebrities are around. High-profile cases are often prologued by picture-worthy moments outside the court; these celebrities did more than justice to the cameras surrounding them, keeping their serious faces and affairs for the courtroom, and not a second sooner.
Cardi B leads the pack; she was photographed flouncing into her assault hearing with a raven black fur coat and a long feathery train that tailed her along with the paparazzi. While fighting charges that could put her behind bars for four years, the rapper and singer paired the eye-catching piece from Adrienne Landau with a crisp white shirt and a pair of Christian Louboutin stilettos (via Harper's Bazaar). Unsurprisingly, this isn't Cardi's only flamboyant courtroom appearance — the plunging fuchsia pink suit she wore for another hearing probably took considerable attention off the case (via Hollywood Life).
High-profile cases had cameras inside the court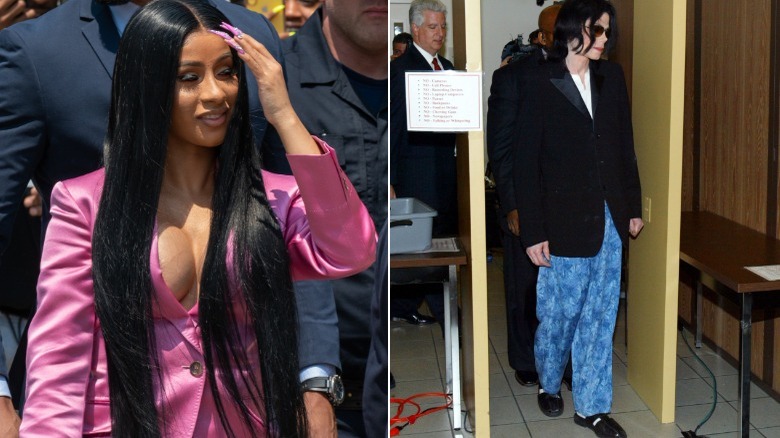 Pool/Getty Images
On the opposite side of the spectrum, Michael Jackson's 2005 court outfit consisted of slippers, a suit jacket, and a pair of pajama bottoms (via The Guardian). Thomas Mesereau, Jackson's defense attorney for that case, told The Hollywood Reporter that Jackson was actually in the hospital for an injury when he was summoned by Mesereau to the court: "So I told Michael, 'You come here now! I don't care what you're wearing.' So he came in a jacket, a T-shirt and pajama bottoms. That was not the desired attire, but at least it kept him out of jail for the rest of the trial."
In that same interview, Lindsay Lohan's former attorney Shawn Holley referenced one of the actor's audacious fashion moments, "What happened was [Lindsay] had 'f*** you' [written] on her nail," he told The Hollywood Reporter. "I sat next to her all day. I didn't see it, the judge didn't see, the prosecutor didn't see it. It was really impossible to see it. But the person who saw it was the cameraman who was in the courtroom."
These courtroom outfits will always be remembered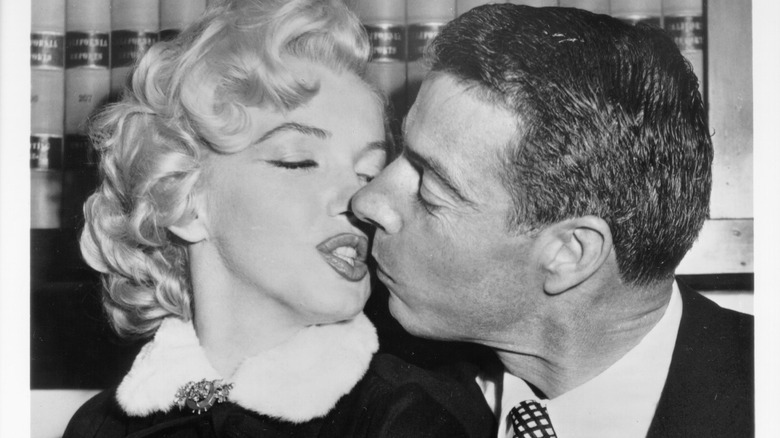 Michael Ochs Archives/Getty Images
Marilyn Monroe's all-black ensemble at the hearing for her divorce from Joe DiMaggio could've used those nails, but the icon chose to keep it classy. The actor wore a black wool suit when she gave her testimony to end the nine-month-old marriage, "I voluntarily offered to give up my work in hopes that it would solve our problems — but it didn't change his attitude" (via UPI).
However, it was the black turtleneck zip-up dress she wore to the press conference that ended up fetching $100,000 at a GWS auction in 2019. Other remnants of the divorce like their marriage certificate were estimated to bring in $10,000 (via The New York Times) while Monroe's scribbled apology note sold for $425,000 at Christie's.
These iconic outfits remain in the deep archives of the internet and regardless of the controversies surrounding them, the verdict is clear: They've all made statements.