The Best Two-Piece Tracksuit Styles Of 2021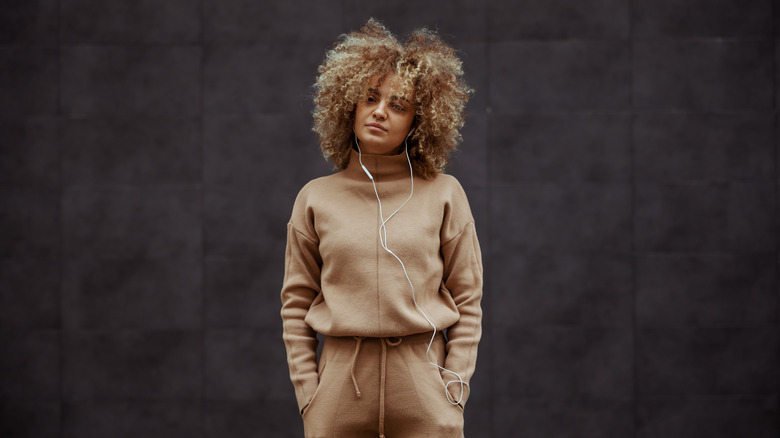 Shutterstock
Whether someone is working out, lounging at home, or running errands, a tracksuit is a go-to clothing option, and due to the COVID-19 pandemic, the love for this item has increased. According to The Guardian, sales of sweatpants increased by 36%, and searches increased by 2,000%, as loungewear sets "have become the new jeans-and-nice-top," according to fashion stylist Bianca Nicole.
A rise in popularity has led to even more styles, prints, and colors being available to purchase, so read on to discover the best two-piece tracksuits of 2021.
First up, are the Reebok X Victoria Beckham Embroidered Cotton-Jersey Track Pants and Oversized Embroidered Cotton-Jersey Hoodie. These are stylish yet comfy, making them work in an array of settings. For a more luxe suggestion, there are the Gucci Les Pommes Jogging Pants and Jacket, with their stand-out design. Balenciaga has the Tailored Jogger Pants, which can be paired with the Sporty B Long Sleeve Top or Couture Boxy Hoodie.
Even Pizza Hut has its own tracksuit these days
Big designer brands are not the only ones offering up tracksuits right now, as you can click onto any site or head into any store to find numerous options.
For example, there is the Pull&Bear Tracksuit Sweatshirt And Sweatpant Set from ASOS. Its relaxed fit has a cool and laid-back vibe. There are also the H&M Wide-Leg Joggers and Half-Zip Sweatshirt in a pretty pink color. Kim Kardashian's clothing line, SKIMS, has several loungewear pieces, such as the Cozy Knit Zip Up Hoodie and Cozy Knit Jogger, which do look oh-so-comfy.
Even food brands are getting in on this trend, as there is now The Tracksuit from Pizza Hut and a collaboration between Bad Bunny and Adidas which led to a Chester the Cheetah-inspired tracksuit (via Input Mag).
Whichever style you go with, you are sure to be cute and comfortable, all while getting in on the latest fashion trend.