How To Accessorize The Tracksuit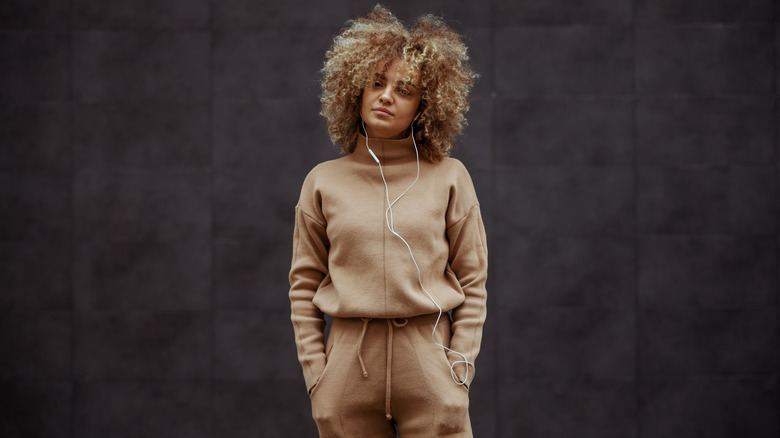 Shutterstock
Long live athleisure wear. Tracksuits represent the best parts of the fashion world. No longer confined to workouts, they're casual and comfortable enough that you can wear them all day, but can also be dressed up to fit your personal style. PopSugar reminisced about Jennifer Lopez's deep love for Juicy Couture's low-rise tracksuits in the 2000s, like the light blue one she wore on an outing with the other half of "Bennifer," Ben Affleck. The Zoe Report even credited Lopez for starting one of Y2K's biggest fashion trends with her constant rotation of velour, bedazzled tracksuits. Naturally, we took a deep dive on YouTube for the 2001 music video for her hit single "I'm Real" and spotted her infamous pink Juicy Couture tracksuit which, according to Vogue, was also designed by the then-unknown clothing brand.
Today's tracksuits come in a larger variety of styles and, per Highsnobiety, draw inspiration from the 1990s hip-hop fashion scene. Take mega style icon Rihanna, for example, who effortlessly accessorized her navy Adidas tracksuit with a white Prada x Adidas bowling bag and silver thong sandals, per Harper's Bazaar. Upgrading your athleisure from daytime casual to chic isn't as complicated as it sounds. Here's how you can spice up your tracksuits without looking like you're about to hit the gym.
Your ultimate guide to styling your tracksuit
Despite its name and original purpose, there's a tracksuit for every occasion. It all comes down to how you style it. Per Style Salute, finding the right tracksuit that complements your shape is the first step. Avoid outfits that are way too baggy, and instead choose one that is the perfect balance of form-fitting without being too tight. If your style is more laidback, Dmarge advises making your accessories the focus of your look. Go for high-quality bags, and spruce up your look with sunglasses. A mini-backpack can be the perfect bridge between cozy and chic.
Mixing materials is also highly encouraged (via Style Salute). For the ultimate contrast, pair silk joggers with a soft cotton top for a look that screams high fashion. Rihanna is an expert at mixing and matching unexpected textures. Her February 2018 Instagram picture of her Gucci tracksuit and leather trench coat out is proof of that. Who What Wear agrees that adding a trendy coat will automatically elevate your look. In the spirit of contrast, pair your coat with pants that have stripes on the side for a sleek silhouette.
When it comes to footwear, don't limit yourself to sneakers. Pull out your favorite booties or heels (via Fashionista). If you want to completely divert expectations, skip the top or jacket your suit comes with, and wear a stylish blouse instead (via Who What Wear).