Why A Royal Expert Says Prince William Isn't Focused On His Relationship With Harry Right Now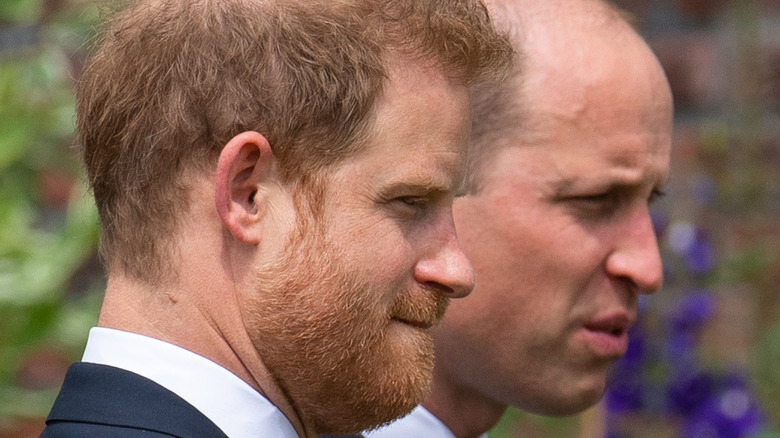 Wpa Pool/Getty Images
Prince William and Prince Harry's relationship has had fans buzzing for years now. The brothers, who once appeared very close, now seem distant, and with Harry moving to the United States the duo rarely comes face-to-face. Back in May, ITV journalist Tom Bradby revealed that the relationship between William and Harry is a "difficult" one, per The Mirror. Bradby admitted that the brothers had been arguing for nearly two years straight, confirming the often reported rift between them. "[William and Harry's relationship] slowly descended into something that was difficult," Bradby said. "Well, it used to be quite a straightforward thing, right, because they weren't arguing and life was simple," the journalist told The Times.
In 2019, Harry famously opened up about his relationship with his older brother during an interview with Bradby in Africa (via Evening Standard). "We are brothers. We will always be brothers. We are certainly on different paths at the moment but I will always be there for him as I know he will always be there for me," Harry admitted. "We don't see each other as much as we used to because we are so busy but I love him dearly. The majority of the stuff is created out of nothing but as brothers, you know, you have good days, you have bad days," he added.
Now, one royal expert is revealing that William is busy preparing for his role as the future king, which means there is less time to worry about his rocky relationship with Harry.
William and Harry may not be ready to reconcile just yet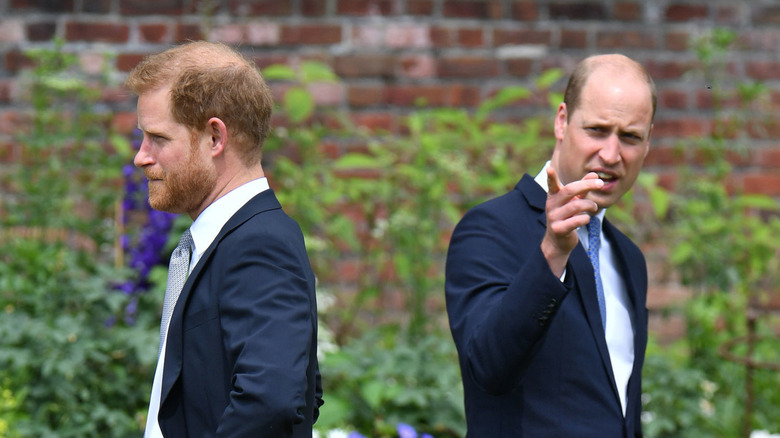 Wpa Pool/Getty Images
Marie Claire reports that Prince William's feud with Prince Harry likely won't be resolved anytime soon. The brothers appear to be as distant as ever, and royal expert Kinsey Schofield claims that there doesn't appear to be much effort to reconcile by either party. "I am still not convinced that there is a looming reconciliation," she said (via The Mirror). "I don't suspect that it is a priority for Prince William to patch things up with Prince Harry as they are at severely different stages in their lives."
"It appears that Prince William is busy trying to support his family through death and scandal while Prince Harry is concentrating on projects that are financially beneficial," Schofield continued. While many believed that events such as Prince Philip's death and the birth of Harry and Meghan's daughter, Lilibet, could bring the brothers back together, it seems that isn't the case. "Deaths, births, remembrance ceremonies, we look at all of these as a fresh start or an opportunity for renewed relationships but the reality is, all of these significant moments are happening within a Sussex PR tornado that is wreaking havoc on the Royal Family," she said. "It is hard to look past some of the recent revelations while you're still picking up the pieces."
Although William and Harry don't appear to be close at this time, royal followers are hopeful that the brothers will work things out and go on to carry out a loving relationship with one another.