Johnny Weir Has The Best Response To Critics Of His Closing Ceremony Style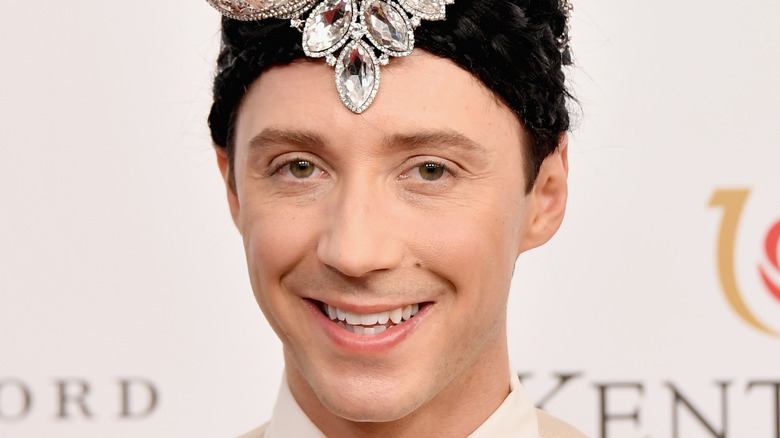 Michael Loccisano/Getty Images
Two-time Olympic figure skater Johnny Weir looked absolutely fabulous while co-hosting NBC's broadcast of Tokyo Olympics closing ceremony on Sunday, August 8. Weir competed at the Olympics in 2006 and 2010 and was remembered not only for his incredible skills on the ice, but for his unique and enigmatic sense of style. He used fashion as a way to stand out during his performances as well as through a form of self-expression. In 2011, he came out to the world as gay via his memoir, "Welcome to My World." He wrote, "With people killing themselves and being scared into the closet, I hope that even just one person can gain strength from my story," per ESPN. Despite deciding to no longer skate competitively, Weir most certainly didn't stop killing the fashion game, looking just as fabulous off the ice and he did on it. In 2014, Weir told The Hollywood Reporter all about his fashion inspiration, revealing that he likes to be the one to dress himself, as "no one is going to style me better than me. I know myself best."
And indeed, it appears that he applied the very same philosophy to his appearance at the 2021 Tokyo Olympics closing ceremonies, where his outfit choice was just as bold and uniquely "Johnny Weir" as ever before. But not everyone is loving the look.
Fans are rallying behind Weir in support
At the event in question, Johnny Weir sported a cream-colored Frolov jacket, Lapointe pants and AGL boots, according to his Instagram post in which he credited each item. His dark hair was styled in something reminiscent of a pompadour bun-style, with a sparkly hairpiece in the shape of the Olympic rings (via E! News). Jenna Ellis, one of former President Donald Trump's legal team members, decided to chime in on Weir's choice of outfit. She took to Twitter and wrote, "#WokeOlympics closing ceremony clown. How appropriate and utterly embarrassing." Deciding to continue and double down on her initial comments, she wrote a second tweet in response to the outfit. "Bring back the days when boys cared about growing up to be actual men. Biblical masculinity over woke fragility."
In classic Weir fashion, he had no interest in staying silent. He responded to Ellis' comments via Twitter, writing "The man I've grown into is a human that embraces the strength of the man & woman who raised me to be myself." He added, "If you feel squashed by the boot of someone else's beliefs, remember you are free to live your life the way YOU believe. Also, religion isn't an excuse for hate."
Twitter appears to be in support of Weir's outfit and subsequent clapback to Ellis. One Twitter user wrote, "You are more of a human than she'll ever be. And you are fabulous." Another person tweeted, "THANK YOU for responding to her ridiculousness with the class and intelligence you always show. Your fans know who you are; screw everyone else. #BeUnapologeticallyYou."