Jason Momoa Weighs In On The Celebrity Hygiene Debates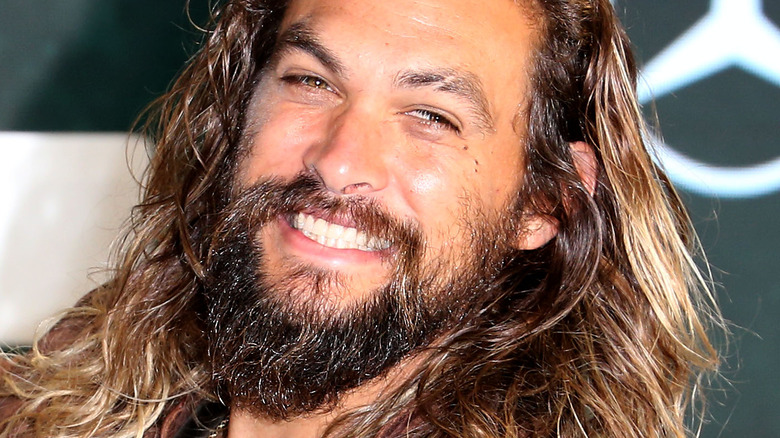 Shutterstock
Like a snake eating its own tail, or rather sniffing it, Hollywood has spent the past few weeks arguing over whether it's acceptable not to bathe very often. Or, ever. Exemplifying that even the rich and famous have kind of lost the plot in lockdown, A-listers are lining up to let the world know they consider showering regularly to be optional. As Today notes, the trouble started when Mila Kunis and Ashton Kutcher proudly revealed, during an appearance on pal Dax Shepard's "Armchair Expert" podcast, that they don't wash their kids until they actually look physically dirty.
Shepard and wife Kristen Bell subsequently confirmed they shared their buddies' outlook, admitting during an interview on "The View" that they used to bathe their kids consistently but fell out of the habit as they got older. These days, the couple waits until their brood fully stinks before forcing them into the tub. Likewise, actor Jake Gyllenhaal told Vanity Fair, "More and more I find bathing to be less necessary." The "Spider-Man: Far From Home" star reasoned our bodies naturally clean themselves, and once you've got good manners and fresh breath, it's all good.
Now, fellow superhero star Jason Momoa is weighing in with his thoughts on the ongoing debate.
Aquaman's Jason Momoa relishes being in the water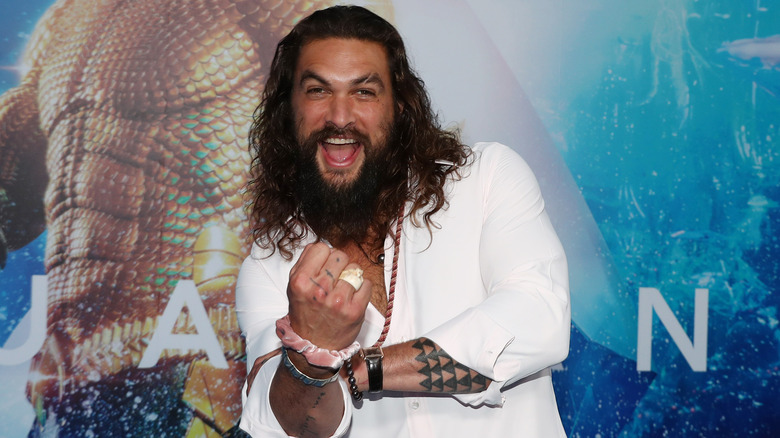 Chris Hyde/Getty Images
Aquaman himself, Jason Momoa, wants to set the record straight that, although he might look slightly grungy at times, the actor definitely showers regularly. In a chat with Access Hollywood (via YouTube), Momoa quipped, "I'm not starting any trends. I shower, trust me." Referencing his most famous character, the fan favorite actor noted, "I'm Aquaman. I'm in the f***ing water. Don't worry about it. I'm Hawaiian. We got saltwater on me. We good." Fellow hunky star Dwayne "The Rock" Johnson also waded in on the bathing debate, responding to a concerned fan to let her know that, like his infamously strict exercise regime, the former wrestler takes bathing very seriously.
"I'm the opposite of a 'not washing themselves' celeb," the "Jumanji" star tweeted emphatically, in response to a fan suggesting he couldn't possibly be part of the stinky celeb contingent. Johnson elaborated, "Shower (cold) when I roll outta bed to get my day rollin'. Shower (warm) after my workout before work. Shower (hot) after I get home from work." Posting a soap emoji to drive the point home, the WWE breakout added, "Face wash, body wash, exfoliate and I sing (off key) in the shower." It seems this debate is far from over, but suffice to say if you come across a famous person out in the wild, make sure you conduct a quick sniff test before requesting a selfie.