What We Know About Andrew Cuomo's Controversial Resignation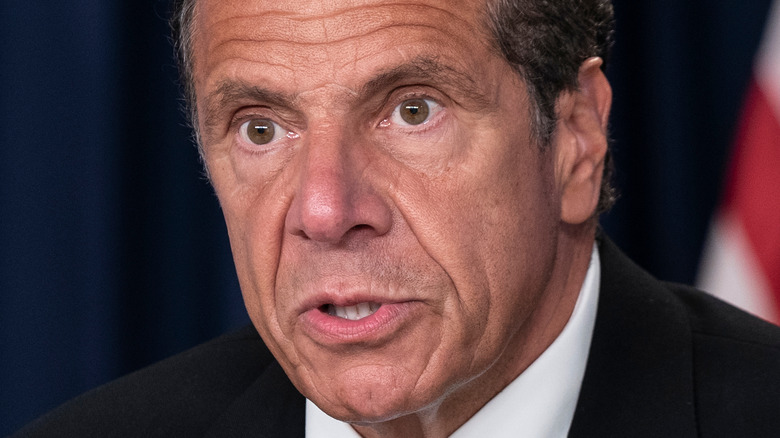 Shutterstock
A little over a year ago, he was the country's hero and the poster child for getting things right as far as the coronavirus pandemic was concerned. Today, New York's three-term Gov. Andrew Cuomo (via KRMG) announced he would be stepping down after a sexual harassment scandal saw him abandoned by his allies  — including President Joe Biden who called on him to resign — and by members of his inner circle. His closest aide – Melissa DeRosa, who had helped push Cuomo's executive agenda — herself announced her resignation on Monday (via CNN).
Cuomo's resignation is not effective immediately, as he is giving 14 days' notice, and he was defiant to the end. As he delivered his statement, he continued to deny the allegations against him (via Associated Press), saying instead that he didn't want to be a distraction, and that "the best way I can help now is if I step aside and let government get back to governing, and therefore, that's what I'll do. Because I work for you, and doing the right thing is doing the right thing for you. Because as we say, it's not about me, it's about we," he said defiantly during the press conference which was called to announce his departure (via Twitter). 
By stepping down, Cuomo is helping to make history. His successor, Kathy Hochul, will become New York's first female governor in the state's history.
Andrew Cuomo's decision to step down may have been strategic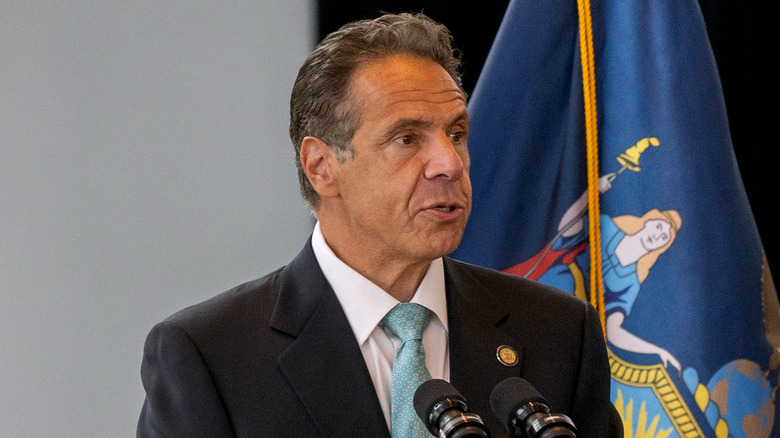 David Dee Delgado/Getty Images
New York Gov. Andrew Cuomo's fall from grace was triggered by an independent report commissioned by New York Attorney General Letitia James, which sought to address complaints  that the governor had behaved himself in an inappropriate way with a number of women. That report, as well as earlier accusations that his state administration had covered up the deaths of hundreds of nursing home patients, caused state lawmakers to launch impeachment hearings against him (via Associated Press). 
Cuomo's decision to step down when he did appears strategic. The New York Times notes that had the governor been impeached and convicted, he would have been barred from running for office again. But because he has resigned, he will still be able to run in the future. However, the resignation doesn't put him in the clear because he still faces a federal investigation over the nursing home deaths. Also, the attorney general wants to find out if he used state resources to produce his memoir, and district attorneys are mulling over the possibility of launching sexual harassment charges against him. 
Cuomo's resignation ends a political career that includes stints as campaign manager for his father, the late Gov. Mario Cuomo; as New York attorney general; and as President Bill Clinton's housing secretary.