Pennsatucky From Orange Is The New Black Is Actually Gorgeous In Real Life
Tiffany "Pennsatucky" Doggett first paraded onto our television screens in 2013 as a fundamental Christian inmate with a predilection for crystal meth (via IMDb). During her character arc on "Orange Is the New Black," Pennsatucky made some questionable decisions but ultimately won our hearts as she transitioned from Season 1 antagonist to anti-hero. 
When the series ended in 2019, Pennsatucky met her untimely demise inside Litchfield Prison after wrongly believing she had failed her GED test and overdosing on fentanyl (via YouTube). Series creator Jenji Kohan explained to The Hollywood Reporter why Pennsatucky's death was integral to the series. "Sometimes, as much as we want to grow, it's very hard to escape past trauma and some people make it and a lot of people don't, especially in prison." 
It took actress, Taryn Manning, time to process how her character left the show. "It's meant to leave you with such a feeling. It was very sad," she explained. "I still get sad. We all die. Nobody's getting out of here alive. And for people to just grasp this notion, I think the world would be a better place." 
While Pennsatucky was known for her manic outbursts and traumatic past, Manning couldn't be further from her character, starting with her blonde hair. 
Taryn tried to be "the girl next door" before landing Pennsatucky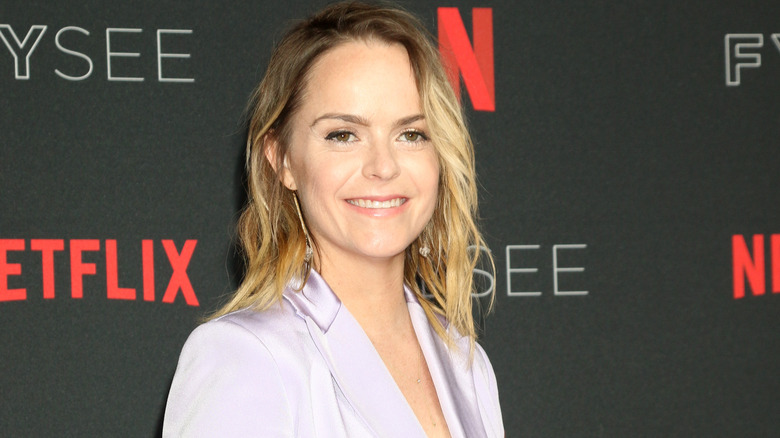 Shutterstock
It's hard to believe that the newly engaged Virginia native and the brunette inmate are the same person. Even Taryn Manning had doubts that she would be able to fully transition into Pennsatucky. "The teeth [in Season 1] were because she had a terrible meth addiction before she came in," Manning told The Hollywood Reporter. "And she was probably a heavy smoker and drank a lot of Mountain Dew and all these things." But Manning cites the biggest difference between her and her "OITNB" character is their politics. "I have about five [gay best friends]," Manning told Us Magazine. "I think most of my friends are gay men ... That's why I'm nothing like my character on 'Orange Is the New Black.'"
Luckily, Manning was able to fully embrace Tiffany Dogget once she got into costume. "[Costumes] helped very much to have Taryn go away ... I like going into costume. I'm a character actor — which by the way took many, many years, almost a decade, to accept. Because I wanted to be the girl next door."
In fact, before Pennsatucky, Manning was almost exclusively cast in the "girl next door" archetype. Years ahead of donning her jail uniform, Manning was taking a road trip with Britney Spears in "Crossroads" and dating Eminem in "8 Mile" (via IMDb). We're grateful Manning finally accepted her true calling: bringing Pennsatucky to life.