What We Know About Taryn Manning's Engagement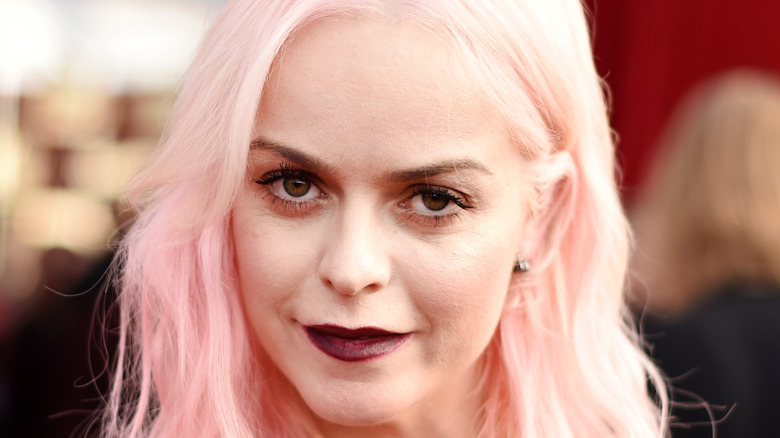 John Shearer/Getty Images
In 2017, actress Taryn Manning shot down stories that were percolating about her sexuality by reaffirming just how straight she is. The "Orange is the New Black" star admitted to People that she'd been with women romantically in the past but, overall, "I'm not gay, meaning I love men." Manning was quick to clarify she supports the LGBTQ+ community wholeheartedly. The actress has had highly publicized issues with her family, but keeps her personal life under wraps for the most part. 
As she opined, "Forgiveness is another form of letting go. I think letting someone go and truly meaning it, it's a boomerang and they come back around. Because true love always comes back around. And family love should come back around." Now it seems love has indeed come back around for Manning, in an unexpected way, as the "Crossroads" breakout is reportedly engaged to her partner. Although Manning is still keeping things relatively quiet, there's clearly reason to celebrate.
The OITNB star's partner popped the question publicly
Not only is Taryn Manning engaged, but TMZ obtained the all-important footage of when her girlfriend, musician Anne Cline, actually popped the question. Cline was onstage mid-performance when the big moment occurred. She was playing an intimate set at a bar and grill in Panama City, FL when, midway through, the singer-songwriter took a moment to get down from the stage and drop to one knee, to ask a clearly shocked Manning to marry her. After taking a beat, the "Orange is the New Black" star naturally said yes, making the assembled crowd erupt into applause as she sweetly kissed Cline over and over.
The committed duo is anything but a Hollywood couple — little is even known about their relationship in general. Cline fronts the band Cline Street and, judging by her Instagram page, is a pretty prolific performer. She's a good bit younger than her actress fiancé too, celebrating her 31st birthday in April, while Manning is 42. The two were photographed out and about together earlier this year, walking some dogs, but it's unclear how long they've been a thing. Manning's people confirmed she's thrilled to be engaged, with the "OITNB" fan favorite enthusing, "It was the easiest YES I ever said!" Congratulations all round!