This Sports Bra Is Trending On TikTok For A Reason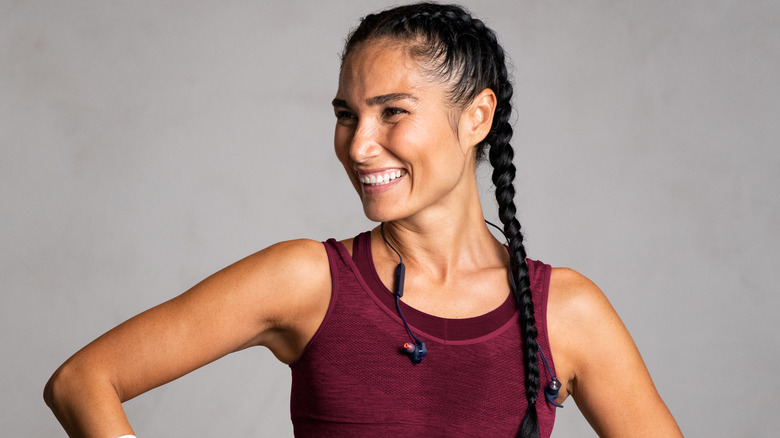 Shutterstock
Any type of bra shopping is frustrating for women of all bust sizes. But sports bra shopping takes frustration to the next level due to the limited selection. Finding the perfect sports bra for your unique body type and sport is difficult and researchers continue to struggle to try to create that ideal "it" sports bra for women (per Women's Running).
Removable cups that bulge, support bras that don't do their job, and bra straps that dig into your skin with every movement are some of the reasons that sports bra shopping is the worst.
Thankfully, TikTok has yet again heard every woman's call and presented followers with a new favorite sports bra created by SHEFIT. All it took was a demo created by TikToker Mikayla Noguelr's of the SHEFIT sports bra to draw attention to the product. That video received over 5.5 million likes and 61,000 shares.
This sports bra is trending on TikTok for a reason. And we need to know why this should be our next purchase.
SHEFIT's sport bras actually work
Sports bras that are comfortable, cute, and actually provide much-needed support are hard to find. This is why TikTok is praising SHEFIT's Ultimate Sports Bra.
Created by SHEFIT founder and "Shark Tank" contestant Sara Moylan, the sports bras are designed for women of all sizes and provide enough support to keep breasts bouncing to a minimum (via Glossy). The company has several styles tailored toward low, medium and high impact activities. However, its the Ultimate Sports Bra that is the talk of TikTok. SHEFIT'S TikTok captioned "When your your boobs finally feel what no bounce feels like with Zip. Cinch. Lift " has been shared more than 12,000 times. 
These sports bras are designed with Zip, Cinch, and Lift action to give women an adjustable fit and support, according to SHEFIT. The bra also comes in eye-catching colors, and gives you a little lift without restricting your movements to allow for a comfortable and appealing fit per E!
To make the process easier, a fit expert helps buyers through the sizing process to ensure they are purchasing the right size (XS-6X) and the ideal sports bra for their workout needs, according to Brydie. "The reality is our bodies, and our boobs, are all different and constantly changing. We deserve a bra that adjusts and adapts with us," Moylan told the outlet.