A Closer Look At Paris Hilton's Engagement Ring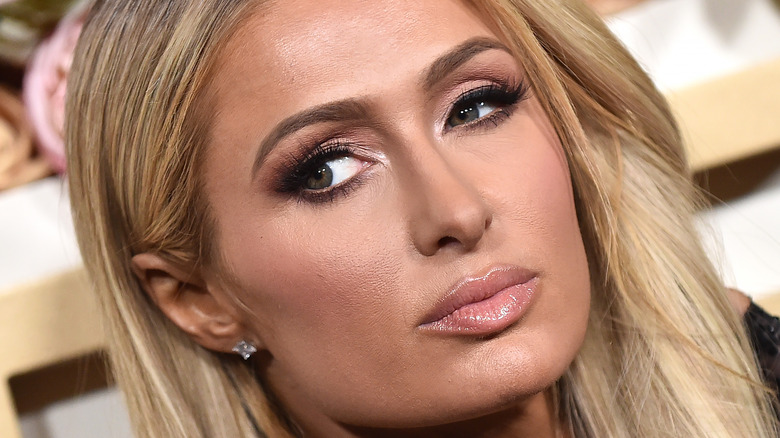 Shutterstock
Paris Hilton is known far and wide for her expensive taste, and her fiancé Carter Reum certainly got the memo when picking out the mogul's show-stopping engagement ring. 
According to The Sun, Hilton and Reum got engaged on the hotel heiress' 40th birthday in early 2021, and the massive diamond ring chosen by her fiancé is reportedly worth an eye-watering $2 million. The design of the emerald-cut jewel was inspired by both the Eiffel Tower and the Grand Palais, and boasts two trapezoidal stones at the center of the diamond along with dozens of smaller stones.
The dazzling engagement ring was designed by the great-great-grandson of Louis-François Cartier, and commenting on the jewel, Hilton said Reum had gone "above and beyond in every way." Writing on her official website, she added, "He tapped Jean Dousset, the great-great-grandson of Louis-François Cartier, to design a breathtakingly beautiful ring that appears to be lit from within."
Paris Hilton big plans for her wedding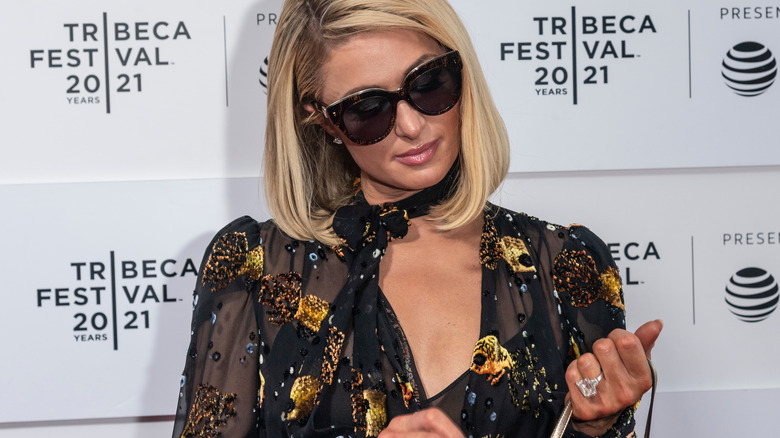 Shutterstock
As mentioned, Paris Hilton and Carter Reum announced their engagement on the "Simple Life" star's 40th birthday. In a heartfelt Instagram post shared on February 17, the heiress wrote, "When you find your soulmate, you don't just know it. You feel it. My love & I have been together since our first date, and for my birthday, he arranged a special trip to tropical paradise. As we walked to dinner along the beach, Carter led us to a cabana adorned with flowers and dropped to one knee."
She concluded, "I said yes, yes to forever. There's no one I'd rather spend forever with... Here's to Love – the Forever Kind."
Per Vogue, Reum, a successful entrepreneur from Chicago, previously opened up about his relationship with Hilton, describing his fiancé as an "authentic" and "amazing" person. "From our very first date, I was able to get to know the real Paris," Reum said of his bride-to-be. "As people who have seen her documentary and recent advocacy work know, Paris is kind, smart, driven, authentic, and an amazing woman, and I can't wait to have her as a partner in life."
As The Daily Mail reported, details of the happy couple's big day have so far been kept tightly under wraps. However, the wedding is due to be televised on Peacock's forthcoming 13-part docuseries, "Paris In Love."