Mary Trump Makes Bold New Claims About Donald Trump's Health Following His Covid-19 Diagnosis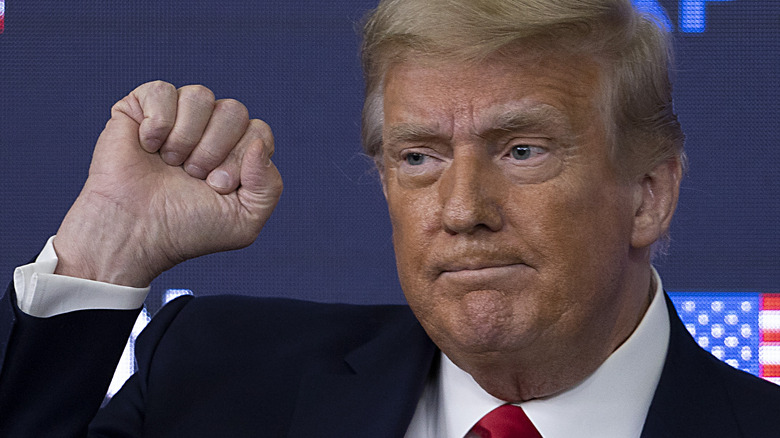 Tasos Katopodis/Getty Images
The world was shocked when former president Donald Trump announced he had tested positive for COVID-19 on October 2, 2020, just a little over a month before the presidential election in which Trump was up for a second term. By the end of that Friday, the president had been airlifted to Walter Reed Medical Center in Bethesda, MD where he spent the weekend before making a Trump-style return to the White House on October 5, where he stepped out on the balcony to an adoring crowd and proudly ripped his mask off (via CNN).
"Don't be afraid of Covid. Don't let it dominate your life," Trump tweeted that evening (via CBS News). "We have developed, under the Trump Administration, some really great drugs [and] knowledge. I feel better than I did 20 years ago!
However, reports since then have revealed the former president was in much worse condition than he and his doctors ever let on at the time. In fact, the book "Nightmare Scenario: Inside the Trump Administration's Response to the Pandemic That Changed History" describes a much more dire situation than originally thought, with Trump's blood oxygen levels dipping into the 80s (via Slate). Now another book by the former president's niece, Mary Trump, titled "The Reckoning" looks into what may have been going on in his head during this dangerous ordeal.
Mary Trump recognized another family member in a Covid-infected Donald Trump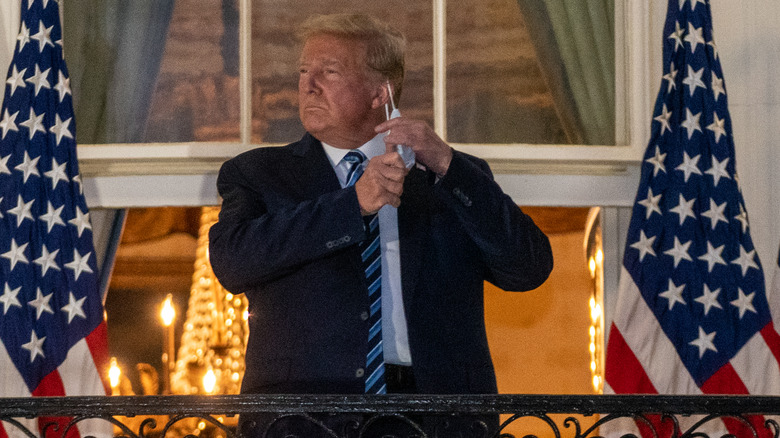 Bloomberg/Getty Images
Mary Trump, who is a psychologist by trade, wrote that she was able to read "fear" on her uncle's face when she saw him on the White House balcony after being released from Walter Reed, according to The Guardian. In her new book "The Reckoning," set to be released on August 17, Mary vividly describes Trump's display of bravado that night and that it reminded her of her grandmother, the former president's mother. It told her that Trump was not as healthy as he wanted the world to believe.
"Doing his best Mussolini imitation, he took off his mask in a macho display of invulnerability," Mary wrote. "He clenched his teeth and jutted out his jaw, just as my grandmother did when she was biting back anger or clamping down on her pain. In Donald, I saw the latter."
Mary also saw something she recognized in herself, as she suffers from asthma and saw telltale signs of distress in the way the president was breathing.
"I have asthma, so I am acutely aware of what it looks like when somebody is struggling to breathe," Mary continued. "He was in pain, he was afraid, but he would never admit that to anybody — not even himself. Because, as always, the consequences of admitting vulnerability were much more frightening to him than being honest."