The One 2021 Summer Trend That Will Stick Around For Fall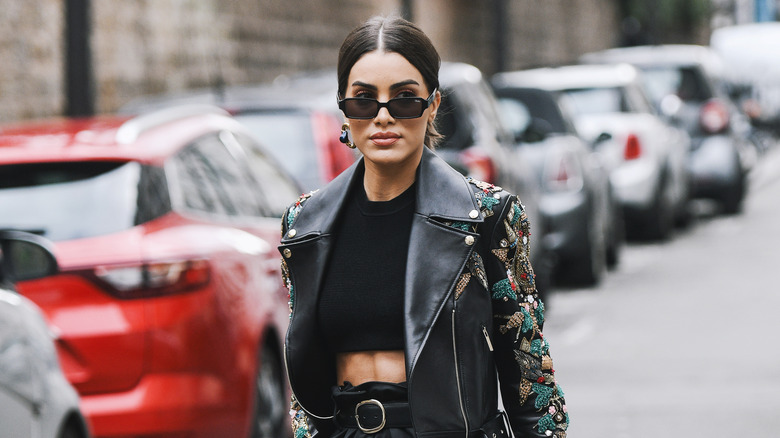 Shutterstock
This summer, fashion trends included puff sleeves and oversized shirts, as stated by InStyle, along with coordinating sets and square-toe sandals, as pointed out by Vogue. As fall approaches, Harper's Bazaar says to get ready to see more sequins, tailoring, and knits, while Marie Clarie shares that lace, fringe, and leopard will all be big.
There is also a warm-weather trend that will follow us into the cooler months: midriff-baring.
For the past few months, this trend has been put on display with bikinis and midi dresses, and now, it will start to be worn with coordinating tops and maxi skirts that either flash a good amount of your middle or just a sliver, according to PureWow. Yes, crop top and skirt sets that show off a little skin are already a fall micro-trend, popping up more and more in runway shows and on social media (via Who What Wear).
How to take 2021's summer trend into fall
An even trendier way to rock midriff-baring outfits is through midriff flossing. As the name suggests, this involves strappy details that cross and tie around the waistline and torso, accentuating the waist. As reported by L'Officiel, this is similar to the reemergence of the exposed thong and has been seen recently on stars such as Dua Lipa, Zendaya, and Camila Coelho and by brands like Versace and Michael Kors.
So while some may think that looks showing some skin have to be reserved for fun in the sun, it is clear that the midriff can be put on display even during the fall months. Plus, it can be done in a subtle and classy way, too, so you might as well get used to it, because as ShopStyle's Alison Stiefel told Refinery29, "the exposed midriff is here to stay."