Trendy Shoes For The Office You Need In Your Closet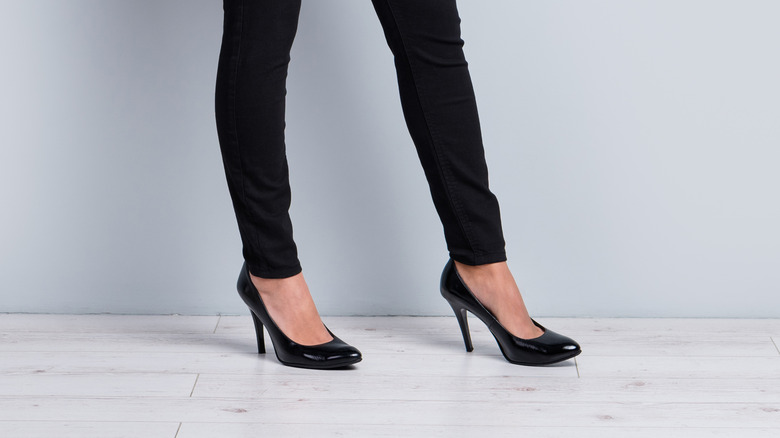 Shutterstock
We may receive a commission on purchases made from links.
We all want to dress to impress at work, whether it's for our boss, our coworkers, or more importantly, ourselves. And there's no denying that shoes are essential accessories that can make or break any outfit and impression. Kristin A. Sherry, globally recognized career expert, says, "At some point during my career as a hiring manager I started making observations of candidates' footwear and, boy, did their shoes tell a story" (via LinkedIn). 
Whether you have a 9-5 in an office, or perhaps something a little more unconventional where you're on your feet more frequently, or you're working from home like so many of have been since the pandemic, choosing the perfect pair of shoes that don't look too dated can really enhance your everyday experience. However, many people believe that going to the office means watering down your style in order to fit in and look appropriate. But with all the options on the market nowadays, that is far from the case. Here are the best trendy shoes for the office that prove looking professional certainly doesn't mean you need to look boring.
Simple black heels that'll never do you wrong
The Madison 12 Hour Pumps from Banana Republic come in 10 different styles to suit your everyday needs. However, you can't go wrong with the classic black as they add the perfect chic flair to any outfit. They're called the "12 Hour Pumps" because with their comfortable soles, arch support, and insoles, they can keep your feet cozy up to 12 hours, a rare feature for high heels (via InStyle).
The Cai mules from Brooklyn-based boutique Pêche are a pair of heels that offer the appropriate amount of height that's suitable for work without being too sexy or flashy (via Vogue). Their U-shaped strap is also a high unique feature, and better yet, their opening in the back allows you to slip them on and off with ease, perfect for if you're in a hurry to get to that important meeting. 
The Naturalizer Platform Sandal offers the perfect blend of chic and comfort due to their breathable lining and N5 Contour Plush cushioned insole (via Hollywood Reporter). The open toe design is optimal for spring and summer use at work, with an adjustable strap you can control if you prefer a snugger or looser feel. 
Flats that'll never fall flat
The Sam Edelman Woman's Lorain Loafer comes in 17 different styles, ranging from snake print, monochromatic, bright red, leather, leopard, and more. Their hardware clasp on the front gives it a tougher vibe that's not too overt. These are highly suitable for the office, because they can be dressed up or dressed down for any outfit, and its extra cushioning makes them optimal for all day use (via Good HouseKeeping). 
The Calvin Klein Women's Ghita Ballet Flat comes in a sleek black or a bold magenta to spice things up in a subtle manner. The shiny finish offers a polished feel while the T strap around your ankle keeps your feet in place, perfect if for the hustle and bustle of a busy work day (via Bustle). 
The Demi Flats from Margaux come in 11 different styles, from muted to bright colors. Their minimalistic design makes them utterly professional and versatile (via WhoWhatWear), and their cute little bow placed strategically on the front offers a French flair.