The Best Places To Buy Trendy Work Wear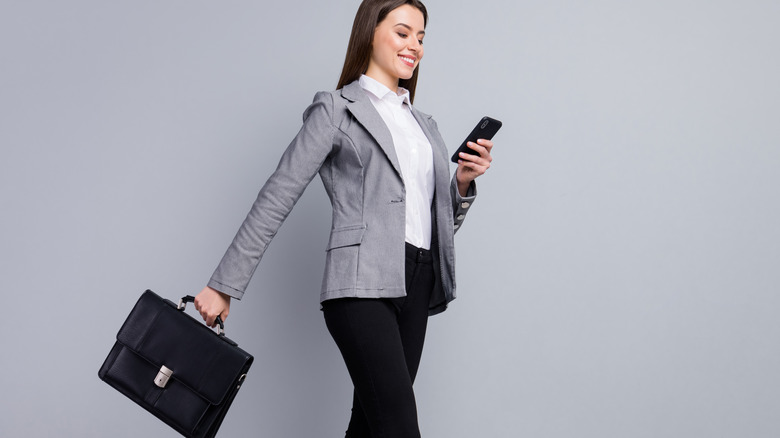 Shutterstock
As we go back to work, we will have to trade our snuggly sweatpants in for some stylish slacks. And that means it's time for some back-to-work shopping. For some, the idea of dressing up again can be exciting, while for others, it can cause anxiety. Luckily, there's several work-friendly clothing options out there now. Clothing companies have had to adjust to the post-pandemic trend of comfort-based dressing and have started to design work clothes that feel just as nice as your favorite T-shirt and pajama pants, per CNBC.
Aptly called "workleisure," it's a blend of business and pleasure, such as trousers that feature elevated fabric like silk or wool, with elastic waistbands (via The New York Times). Erin Schmidt, a senior analyst at Coresight Research, spoke about the evolution of workwear to CNBC and said, "The consumer is rewriting that definition of workwear."
So if you want to look fashionable, yet feel comfortable, there are lots of trendy stores for "workleisure" today. On the other hand, there are also plenty of stores to shop for more formal work clothing if you are a fashionista who is ready to rock those dresses again.
Trendy retailers that offer professional attire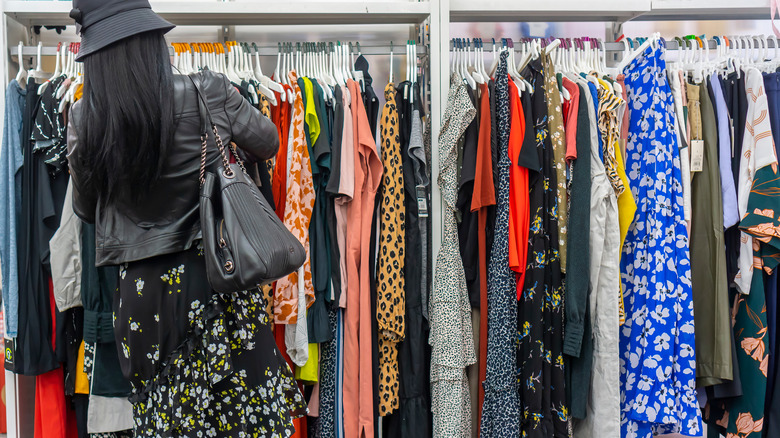 Shutterstock
Most known for their shapewear, Spanx also offers figure-flattering pants that will be easy on those post-pandemic waistlines. The pants come in varying lengths as well that are inclusive of petite and tall inseam lengths. Insider recommends the brand's The Perfect Pant, which features a pull-on waistband and is available in a skinny and flared version. The fabric is smoothing, stretchy, and machine-washable.
Another place that offers machine-washable comfort-focused work clothing is M.M. LaFleur. The company even has a "T-shirt you can wear to work." Some of their clothes also offer innovative fashion faux pas-fixers like clips inside blouses to keep bra straps from moving and pants that have adjustable hemlines, so you can wear them with flats or high-heels.
According to Who What Wear, Target is a popular place to shop for affordable work clothes and shoes that come in inclusive size ranges. For tailored staple pieces, Mango offers stylish blazers, blouses, pants, and skirts.
Mall stores that carry work-friendly clothing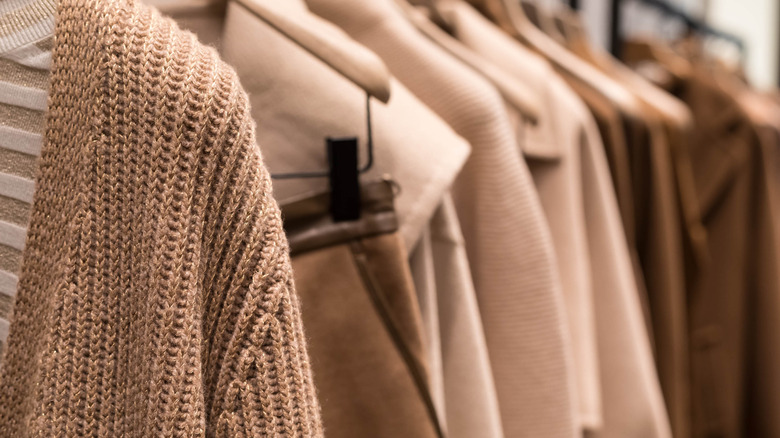 Shutterstock
Another place where you can find work-appropriate blazers and skirts is H&M, per Who What Wear. If you work in a professional setting that requires you to dress more formally, Banana Republic is a great place to shop for classic work attire like little black dresses, button-down shirts, and trousers. Speaking of trousers, Old Navy has several affordable takes on workleisure like these ponte leggings and pull-on yoga pants-meet-slacks (via PopSugar).
Express is another place that offers sweatpants-style work pants, as well as dressier work attire, also per Who What Wear. They have a wide selection of workplace staples in basic neutral colors, as well as on-trend, fresh colors that can help you stand out in that board meeting. And if you could use a little style help, Macy's offers a personal stylist service that will help you shop from work-friendly brands like Calvin Klein and Ralph Lauren (via The Courier-Journal). Now that you've shopped until you've dropped, rest up and get ready to walk in style on your first day back to the office.