Who Is Track Palin, Sarah Palin's Son?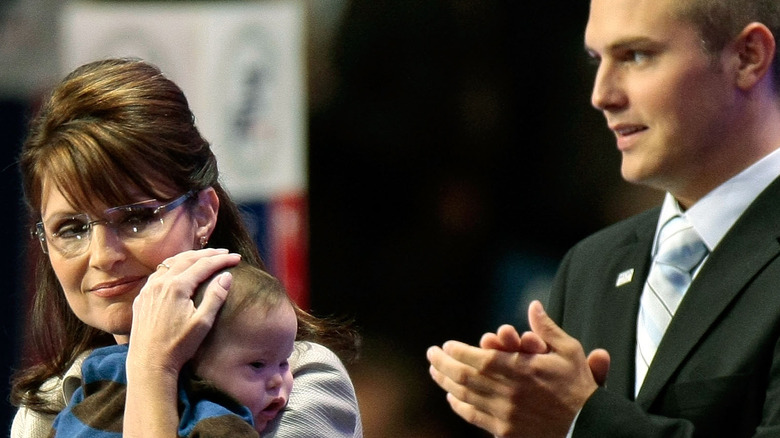 Win Mcnamee/Getty Images
Sarah Palin and her children burst onto the public scene in 2008 when the late presidential candidate John McCain plucked the little-known Alaskan governor out of obscurity and chose her as his vice-presidential running mate. 
Americans and the world would soon learn that Palin had a large and boisterous family that included one pregnant teenage daughter named Bristol, another younger daughter who seemed to stay on the sidelines named Willow, one adorable little girl who was by her mom's side on the road at campaign events named Piper, and a small baby named Trigg who was born with Down's Syndrome (via Biography). Palin also has another son named Track. While he didn't cause too much trouble for his mom during her VP run, he has led an interesting life since.
Track Palin was born on April 20, 1989, in Wasilla, Alaska to parents Sarah and Todd Palin and enlisted in the United States Army soon after the September 11, 2001 attack on the World Trade Center. In 2008, when his mother was running for vice president, Track was on a tour of duty in Iraq but made it back to get on the campaign trail. When his time in the service was over, he returned to Alaska and his family and married a woman named Britta Hanson in 2011, who gave birth to his daughter a few months later. Sadly, that union ended after less than two years. After that, his life became much more complicated (via Hollywood Life).
Track makes headlines for bouts of violence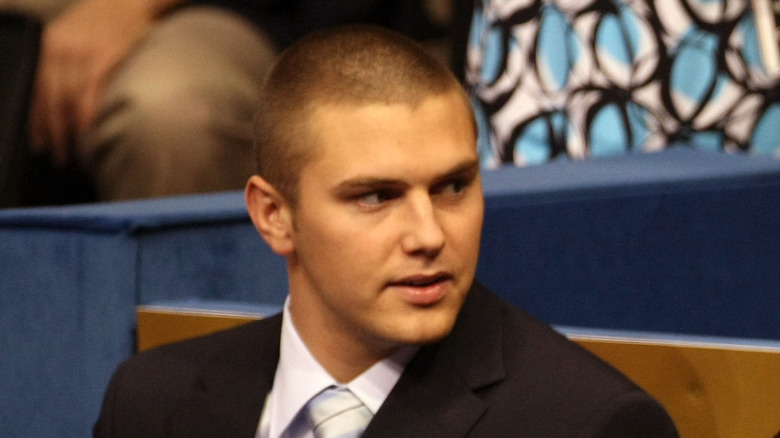 Justin Sullivan/Getty Images
In 2014, members of the Palin clan were involved in a very public drunken brawl in Anchorage, Alaska and Track Palin seemed to take the brunt of the injuries. Track and his siblings were at a house party and police had to be called when they were alerted to an incident where "about 20 people were involved." 
While the police never ended up pressing charges, Track was described as having blood on his hands and mouth, with injuries to his eye and cheek, and smelling of alcohol. He also was angry at the officers when he told them of men that were being rude to his sisters, according to The Guardian.
Track was in the news once again in 2016 when he was arrested on charges of domestic violence, interfering with reporting of domestic violence, and possessing a weapon while intoxicated, reported CNN. Sarah Palin blamed that incident on her son suffering from Post Traumatic Stress Syndrome (PTSD) as a result of his time in Iraq. The year 2017 wasn't much better for Track after he was arrested for a domestic altercation with his own father, Todd.
Track Palin is once again arrested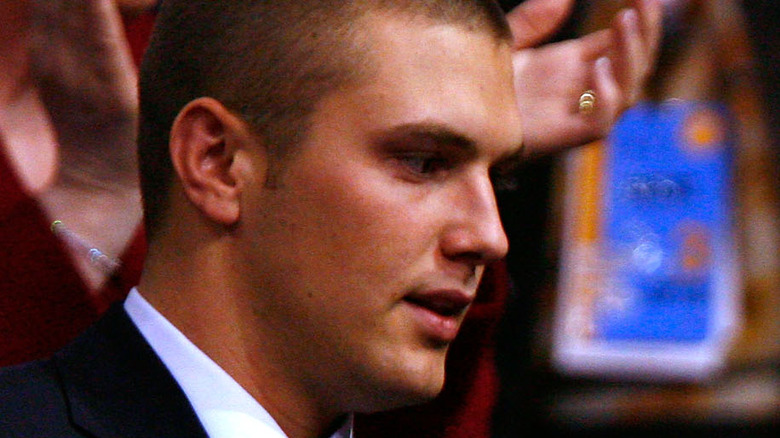 Chip Somodevilla/Getty Images
In September 2018, Track Palin was in trouble with the law once again for yet another violent incident. According to CNN, Track allegedly assaulted a woman who tried to call the police but was prevented from doing so when Track took her phone. He also resisted arrest and assaulted the Alaska state troopers who responded to the incident. 
He was 29 years old at the time and charged with various counts, including domestic violence, interfering with the reporting of domestic violence, and resisting arrest, as well as disorderly conduct. When he appeared in court a few days later, Track pleaded not guilty and was soon released without bond.
However, two months later, the 2017 domestic dispute with his father came back to haunt him and Track turned himself into authorities to spend one year in an Anchorage halfway house, according to the Associated Press. He was originally slated to begin a therapeutic program specifically for veterans due to the 2017 incident, but the September assault disqualified him, hence the sentencing to a halfway house. Track only ended up spending a month there and was released in January of 2019 after a judge agreed to allow him credit for time spent under electronic monitoring surveillance.
If you or someone you know is dealing with domestic abuse, you can call the National Domestic Violence Hotline at 1−800−799−7233. You can also find more information, resources, and support at their website.