Here's How Many Grandchildren Rita Moreno Has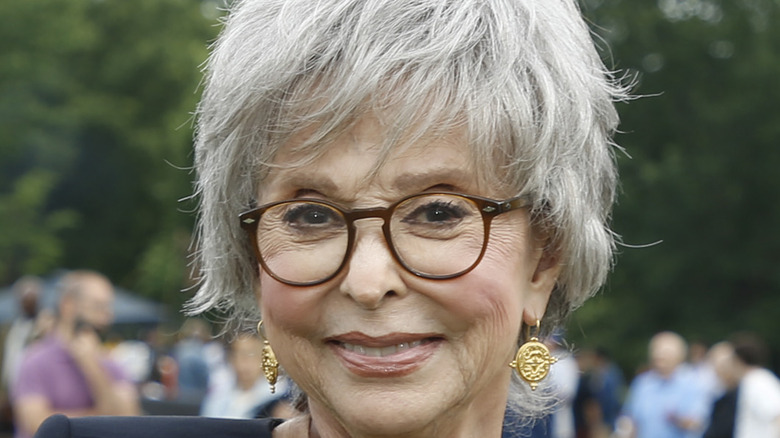 John Lamparski/Getty Images
In the world of performing, Rita Moreno is a triple threat with a triple crown. She can sing, she can dance, and she can act and she has the awards to prove it, having earned the pinnacle combination of an Oscar, a Tony, a Grammy, and an Emmy (via National Women's History Museum). In her personal life, Moreno also has it all, a loving husband, a grown daughter, and grandchildren to love.
Musical movie fans will never forget Moreno's Academy Award winning turn as Anita in 1961's "West Side Story" where she played a Puerto Rican young woman living in New York City at the height of a gang war. Moreno was also born in Puerto Rico on December 11, 1931, and made it to New York in her teens, quickly landing theater roles and making it to Broadway. After becoming the first Latina woman to win an Oscar for playing Anita, Moreno found the love of her life, Dr. Leonard Gordon, and got married in 1965 (via Biography).
Rita Moreno has it all with a career, husband, and family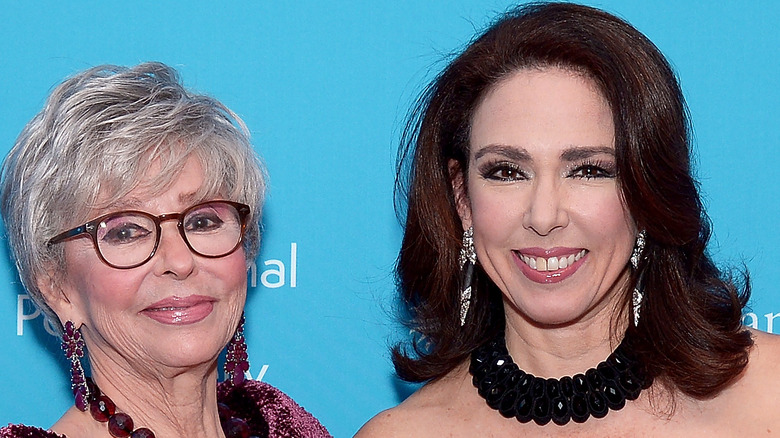 Shannon Finney/Getty Images
Two years after marrying Leonard Gordon, Rita Moreno gave birth to the couple's only child, a daughter they named Fernanda. While she raised her daughter, Moreno became beloved to children across America on the PBS program "The Electric Company" where she famously shouted out, "Hey you guys," at the start of each episode. Moreno continued to work on Broadway, as well, and won a Tony Award for her work in "The Ritz" in 1975 (via Biography).
She also raised her daughter to love acting and the performing bug bit Fernanda, and she appeared in several movies herself, including "An Inconvenient Woman" and "The Adventures of Brisco County, Jr." Fernanda went on to marry David Tyler Fisher and officially made Moreno a proud grandmother with the birth of her son, Justin Gordon Fisher, in 1996. A second grandson, Cameron David Fisher, arrived in 1999, completing Moreno's family (via Closer Weekly).
Rita Moreno relishes life as a grandmother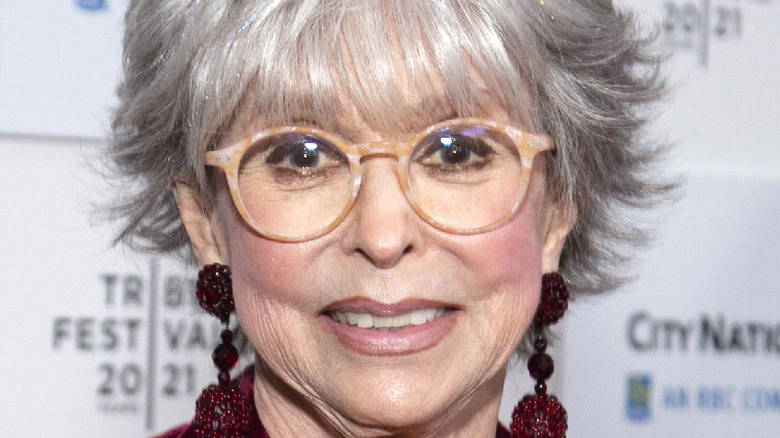 Santiago Felipe/Getty Images
In 2008, Rita Moreno told Grand Magazine that she and her husband, who died in 2010, moved from Los Angeles to Berkeley, California to be closer to their grandchildren and watch them grow up. She also reflected on the joy being a grandmother gave her.
"We were out of our minds when we first found out we were going to be grandparents. And the funny thing is that it has never changed," Moreno said. "Our grandchildren are the light of our lives. One of the best experiences of our lives, if not the best, next to our daughter's birth, is helping birth our daughter's baby. We were at the hospital with them [Fernanda and David]. I held one of her legs. It was astonishing. It was the most moving experience you can possibly imagine."
Although her grandsons are now adults, Moreno, who most recently starred on the reboot of the classic sitcom "One Day at a Time," admitted only having one child contributed to how she feels about her grandchildren.
"Being an only child means that we poured all our love in her. And then to top it off, you know what's amazing to me? That love is a bottomless well. I keep thinking I can't possibly love any more than I do now, and I do," she said.