The One Eyeshadow With SPF That You Need Now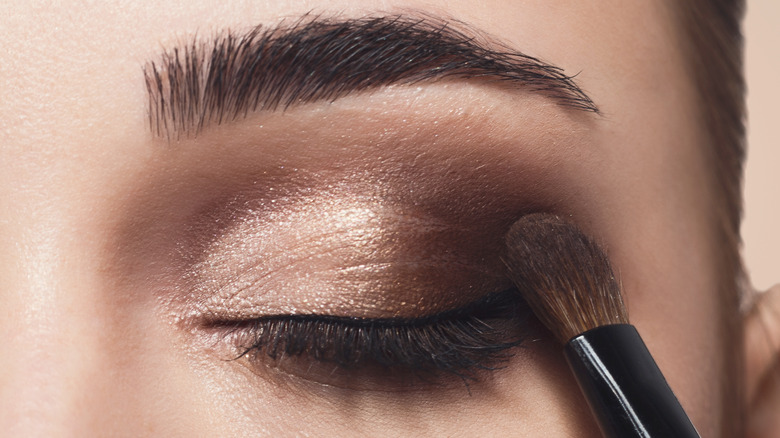 Shutterstock
We may receive a commission on purchases made from links.
Most dermatologists will agree that SPF is the most essential ingredient in your everyday skincare routine. Not only is it the main ingredient that combats aging by preventing wrinkles, it, most importantly, prevents skin cancer by protecting against harmful UVA and UVC rays. This is why it's key to wear SPF every single day, according to the Chicago Tribune, and find a way to incorporate it into your daily self care regime with any product you can get.
Nowadays, SPF can be found in not only sunscreens (obviously) but in many makeup products as well. Primers, foundations, setting sprays, and lip products have been spotted on the market that contain this vital element, CNN noted. But who knew that SPF can come in an eyeshadow?
It was a wise decision to make an eyeshadow with SPF, considering that the eyelids are highly immune to the sun and are often the first area of the face to show signs of aging, per the Observer. But applying sunscreen to them can be somewhat risky due to their sensitivity. While some may think SPF eye products are hard to find, turn to the ultimate sun protection brand known as Supergoop!
Supergoop!'s cream eyeshadow in SPF 30 is here to protect and glamorize your lids
Although Supergoop! is known mainly for their skincare, especially their wide range of sunscreen products from lotions, oils, and sprays, they have a slim selection of makeup products as well. Their Shimmershade Illuminating Cream Eyeshadow in SPF 30 ($24) comes in four shades, all with a velvety texture and shiny finish that will last all day. First Light is a neutral champagne, Golden Hour is a light gold; Daydream is a flattering, softly metallic rose gold; and Sunset is a subtly reflective deep bronze.
The colors can be used for a subtle effect or layered to be built into something more dramatic. It also has multiple uses, as it can also be applied underneath your daily eyeshadow as a primer to act as a long-lasting base that will also protect your delicate lids from the sun. 
Overall, Supergoop!'s Shimmershade SPF 30 shadow is a one-of-a-kind product if you want your eyes to stay looking young, wrinkle free, and fabulous at the same time.