The Clean Sunscreen Brand You Need To Try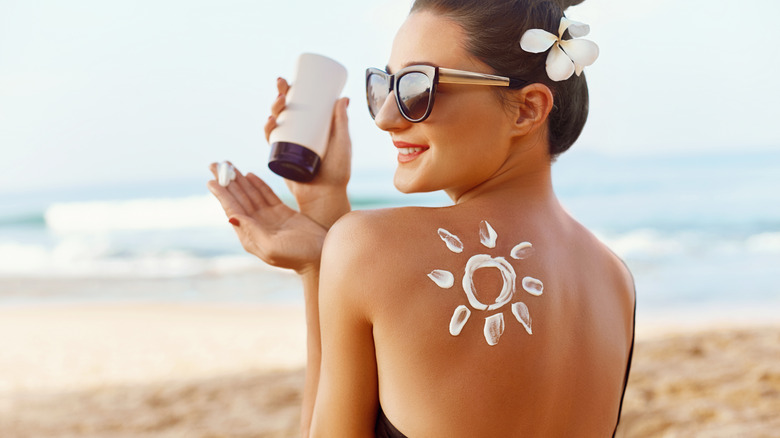 Shutterstock
Finding the right sunscreen can be a struggle. You probably know you need to avoid certain ingredients like avobenzone, octinoxate, and oxybenzone (via Byrdie). Still, with all the different brands and claims, it can be challenging to cut through everything to figure out the type of sun protection you need that also helps you stay healthy. Often, European versions of sunscreen are superior to their United States counterparts. Given that you should wear sunscreen every day from six months old on, finding a safe and effective one is essential. EWG reported that zinc oxide and titanium dioxide are the only two safe and effective ingredients for blocking the sun's damaging ultraviolet rays. It's almost enough to make you avoid sunscreen altogether, but that can lead to severe sun damage and possibly even cancer, making such avoidance a risky behavior. 
Who What Wear revealed which clean brand it loves, and it might be something you haven't tried before. This clean sunscreen is one that you can feel comfortable putting on yourself and other members of your household, every day.
Here's why you should try Supergoop! Matte Screen sunscreen
According to Who What Wear, Supergoop! Mattescreen SPF 40 is a clean sunscreen that is also reef safe. Supergoop! promises that the sunscreen also leaves your skin looking pore-less, which means it works well with makeup for daily wear. It's also free from oxybenzone, octinoxate, and parabens, meaning you can feel good about the products you're putting on your face. The lightly tinted sheer formula helps combat the typical white hue you probably get when you wear 100 percent mineral sunscreen products. 
Teen Vogue promised that you'd forget you're even wearing sunscreen with this clean product. Because this formula is broad-spectrum, you'll even get protection from the blue light emitted by your computer, smartphone, and other devices. The publication called it the "MVP of sunscreens." The brand notes that this mineral sunscreen might not be appropriate for all skin tones, and recommends its Unseen Sunscreen if this product doesn't work for you. But, if you're looking for something you can feel good about wearing every day, it's worth it to give this Supergoop! sun protection a try.