The Truth About Zara's Makeup Line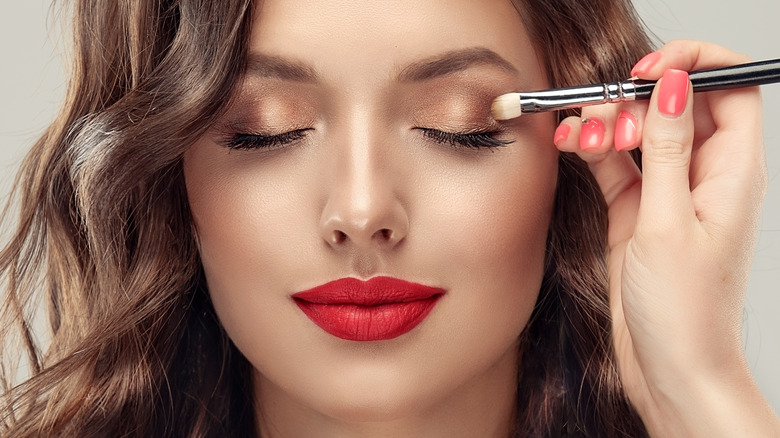 Shutterstock
You can now get a literal head-to-toe(nail) makeover at Zara. The fashion retailer made a grand entrance into the beauty industry earlier this year, introducing an expansive makeup collection under the name Zara Beauty. It allows you to mix a myriad of colors to match your latest Zara purchase (like this dress, which is going viral on TikTok) with a line of lipsticks, eye shadows, makeup brushes, and even nail polish. You can also find the rest of the essentials: bronzers, highlighters, and blushes that come in refillable, minimalist packaging, designed by French art director Fabien Baron, per Dazed.
Zara Beauty also comes with the slogan, "There is no beauty, only beauties," which is meant to indicate the inclusiveness of the brand's collection. "Our ambition was to create a truly inclusive collection that anyone, regardless of skin color, gender, age, or personal style, would want to use," Eva Lopez-Lopez, who heads Zara Beauty, told Vanity Fair. 
The brand's ethos and the attention it paid to sustainability resonated with legendary makeup artist Diane Kendal, who serves as creative director for this collection. Keep scrolling to learn more about how Kendal feels about Zara Beauty. 
Diane Kendal wants Zara Beauty to be for everyone
"When Zara approached me to lead the creative direction of Zara Beauty, I saw an opportunity to make something that everyone would want to use," Diane Kendal said in a statement to InStyle. "Zara has always reached such a diverse audience, and I wanted to bring that same big vision to beauty with a collection that is clean, refillable and accessible to all. I am really proud of what we have created: an expansive array of consciously unique formulas for eyes, lips, face, and nails." 
The influential makeup artist, who played a central role in zhuzhing up fashion weeks, magazine covers, and advertisements within the beauty industry beginning in the 1980s, brought her expertise — and desire for evolvement in beauty — to the brand's line. "Because of my experience working with products for so long, there are some things that I really crave in a new product, and that is beautiful, slick quality, pigment, and easy application that is durable," she told Allure. One of Kendal's favorites in the collection attests to that: The Metal Foil Loose Pigments are multipurpose shades that can be easily blended into your lips or used as eyeshadow.
Kendal also created a portfolio of vibrant looks for the campaign, captured by nine different photographers to showcase distinct visions for the brand. The inspired looks may leave you impulse-buying the collection — but for the price range of $8 – $26, your wallet won't mind.