How Aaron Taylor-Johnson Met His Wife Sam Taylor-Johnson
Shutterstock
Actor Aaron Taylor-Johnson is perhaps best known for his roles in "Kick-Ass," "Avengers: Age of Ultron," and the iconic teen rom-com "Angus, Thongs and Perfect Snogging" (via IMDb). His wife, director Sam Taylor-Johnson, is a respected artist in her own right, having directed "Fifty Shades of Grey" and "A Million Little Pieces" (via IMDb), in addition to her lengthy career as a photographer. The pair have been together since 2009, but their relationship has been a source of controversy as Aaron was only 18 years old when they started dating while Sam was 42 years old (per Capital FM).
Even though their age difference is concerning to some people, Sam and Aaron aren't phased by the negativity. When discussing their 23-year age gap with The Telegraph in 2019, Aaron said, "When I met Sam I'd already lived a life far beyond that of most of my contemporaries — I didn't relate to anyone my age. I just feel that we're on the same wavelength." The two met on the set of "Nowhere Boy," which Aaron starred in and Sam directed (via Capital FM). Here's what they've said about how they met.
Aaron and Sam Taylor-Johnson instantly had a connection when they met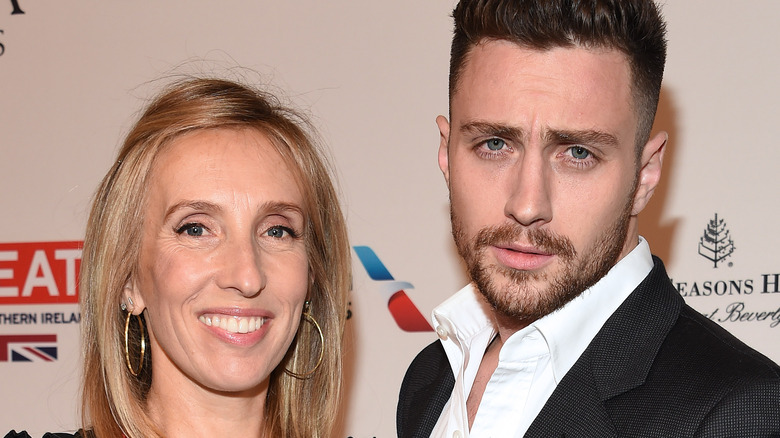 Shutterstock
Both Aaron Taylor-Johnson and Sam Taylor-Johnson have spoken at length about the instant connection they had when they first met on the set of "Nowhere Boy." In a 2017 interview with The Times, Sam said, "We had this intense connection," before adding that Aaron felt the same exact way. "He was very intense and absolutely mind made-up" about wanting to be with her, the director explained. The couple announced their engagement at the movie's 2009 premiere, per The Times.
In a 2019 interview with Harper's Bazaar, meanwhile, the pair insisted that nothing happened between them on the movie set. "We were very professional through the entire film," the couple told the magazine, adding that there was "no funny business at all" during filming. Sam added, "But everyone on set knew. And as soon as we finished, he told me he was going to marry me. We had never been on a date, or even kissed." It sounds pretty intense, especially when you consider that Aaron was only a teenager at the time. But despite the controversy surrounding their age gap, and the immediate intensity of their relationship, the two have been happily married for over a decade and share two daughters.