Inside Rudy Giuliani And Andrew Cuomo's Relationship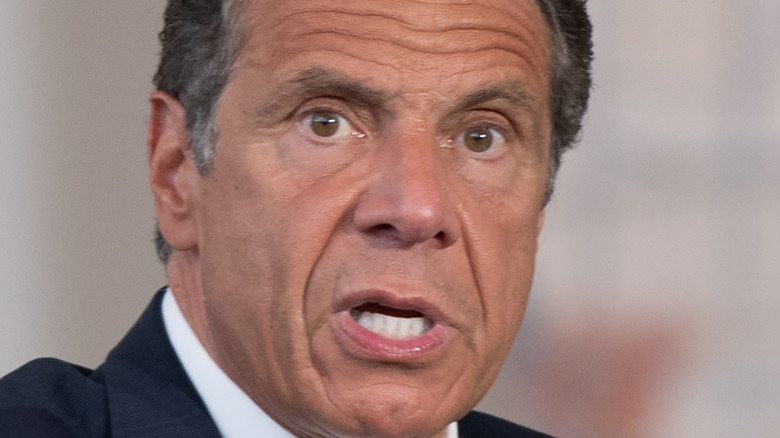 Shutterstock
Former New York mayor, Rudy Giuliani, has spoken out on Governor Andrew Cuomo's resignation amid a sexual harassment scandal, stating that Cuomo is "smarter and more talented" than other politicians who have been involved in New York state scandals (via New York Post). In an interview with Frank Morano, host of "The Other Side of Midnight" WABC radio show, the lawyer stated that, "Andrew will resurrect himself in some way. He's a very, very tough guy, determined guy. He's a fighter." 
Giuliani continued his personal thoughts regarding Cuomo, stating, "I just feel sorry for him" and, "This is a guy who could have been president of the United States." In the same breath, Giuliani said "... but he blew it."
He also expressed his distaste for how Attorney General Letitia James handled the sexual harassment allegations against Cuomo, claiming that James was acting on her own agenda to run for New York governor. James' handling of the investigation led Giuliani to call her "unethical," and he said the attorney general "should be disbarred for doing that."
Giuliani shared his thoughts on Cuomo's nursing home scandal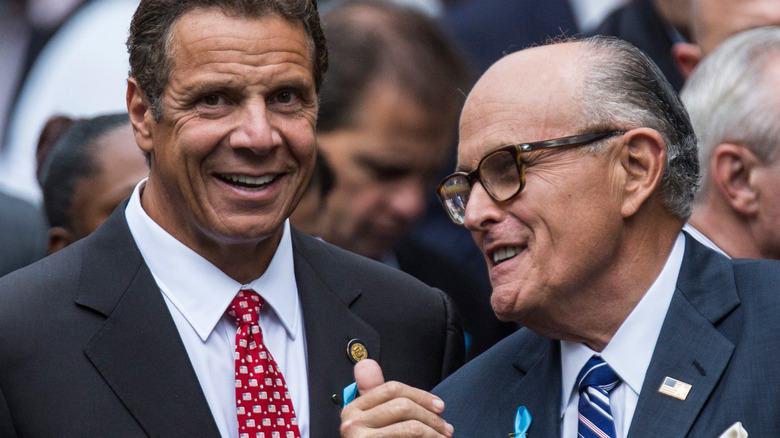 Andrew Burton/Getty Images
Despite expressing his support for Andrew Cuomo following his fall from power, Rudy Giuliani still threw criticisms at the former governor of New York. The New York Post reported that Giuliani is appalled by the decision of the Department of Justice to suspend the investigation of Cuomo's role in the COVID-19 nursing home deaths. Giuliani, calling it "unjustifiable," stated in a radio interview with Frank Morano, "I'm not saying he's guilty or innocent, but have an investigation."
The former mayor of New York said in an interview with NewsMax that he believes the Democratic party used the harassment allegations against Cuomo to take the nursing home scandal out of the public eye. Giuliani claimed that Cuomo is not the only responsible leader for COVID-19 nursing home deaths, and the alleged scandal could take down multiple other top Democratic politicians, including Michigan Governor Gretchen Whitmer and New Jersey Governor Phil Murphy.  
In late July 2021, the Justice Department noted in a statement that based on the data provided by the states in question, there would be no civil rights investigation into "any public nursing facility within New York, Pennsylvania, or Michigan at this time," (via Reuters).