Rihanna Has The Perfect Response To The Celebrity Hygiene Debate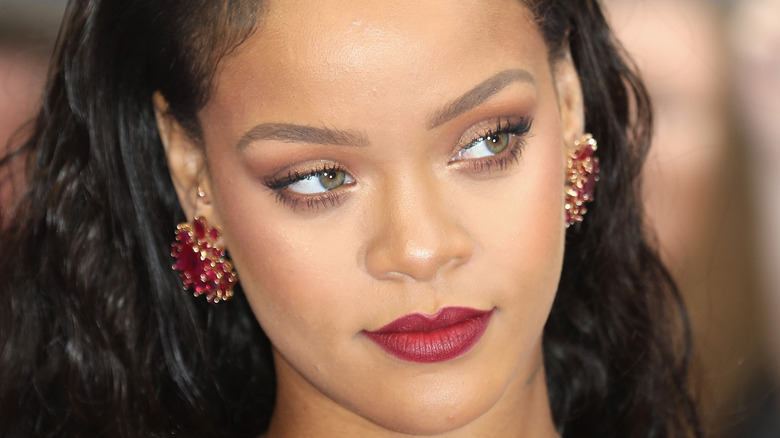 Tim P. Whitby/Getty Images
The great celebrity hygiene debate, as it's quickly becoming known, shows no signs of slowing down despite its general insanity. As People reports, it all kicked off when Mila Kunis and Ashton Kutcher casually revealed, during an appearance on their buddy Dax Shepard's podcast, that they don't wash their two children unless they actually look dirty. "Otherwise, there's no point," Kutcher reasoned. His wife added that they weren't washed daily as newborns, either. Kutcher extends this principle to himself, noting his armpits and crotch generally get a good scrubbing but "nothing else ever."
During a subsequent interview on "The View," Shepard and his own wife, Kristen Bell, admitted they're much the same. The beloved couple generally waits for their kids to smell before giving them a wash. "I'm a big fan of waiting for the stink. Once you catch a whiff, that's biology's way of letting you know you need to clean it up," Bell argued. Fellow actor Jake Gyllenhaal, meanwhile, freely admitted he sees no reason to bathe regularly, while chatting to Vanity Fair. With all these disgusting revelations, even more famous types are lining up to prove they do, in fact, wash. The latest is Rihanna.
Rihanna has the receipts to prove how good she smells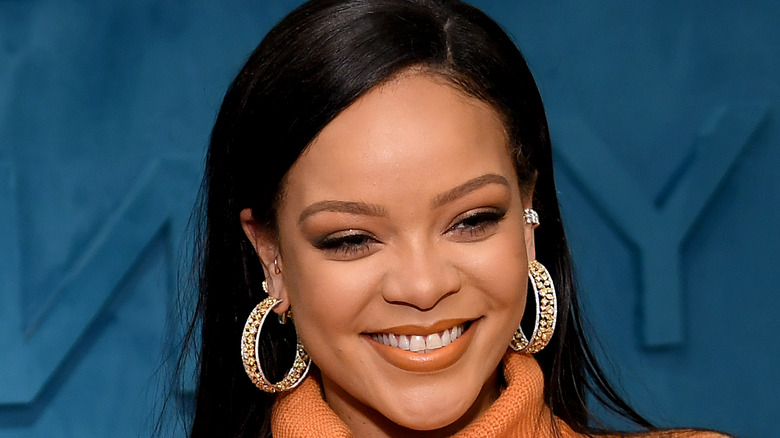 Dimitrios Kambouris/Getty Images
Rihanna took to Twitter to share a hilarious video featuring various celebrities, including Cardi B and Lil Nas X, enthusiastically declaring she smells "like heaven." Page Six reports she released her first perfume, Fenty Eau de Parfum, on Tuesday, and it sold out within hours so clearly Rihanna knows what she's talking about when it comes to smelling good. Her concoction is "spicy and sweet" and includes notes of "magnolia, musk, tangerine, blueberry, Bulgarian rose absolute, geranium and patchouli," as per a press release, which might give some indication of how the lady herself smells. As Rihanna promised in a statement, "One smell, you'll never forget it." 
The move comes after several A-listers set the record straight about their personal odor. "Wassup with people saying they don't shower?" Cardi demanded of her Twitter followers, adding, "It's giving itchy." Elsewhere, Dwayne "The Rock" Johnson responded to a curious fan, also on Twitter, reassuring them he's "the opposite of a 'not washing themselves' celeb" and frequently takes three showers daily. Aquaman himself, Jason Momoa, also clarified he's fresh as a daisy during an appearance on Access Hollywood earlier this week. "I'm not starting any trends. I shower, trust me," he quipped. Momoa added, "I'm Aquaman. I'm in the f*****g water. Don't worry about it. I'm Hawaiian. We got saltwater on me. We good." 
It remains to be seen who will step up next, and what side of the debate they'll fall on.