The Truth About Betty White And Bea Arthur's Relationship Off Screen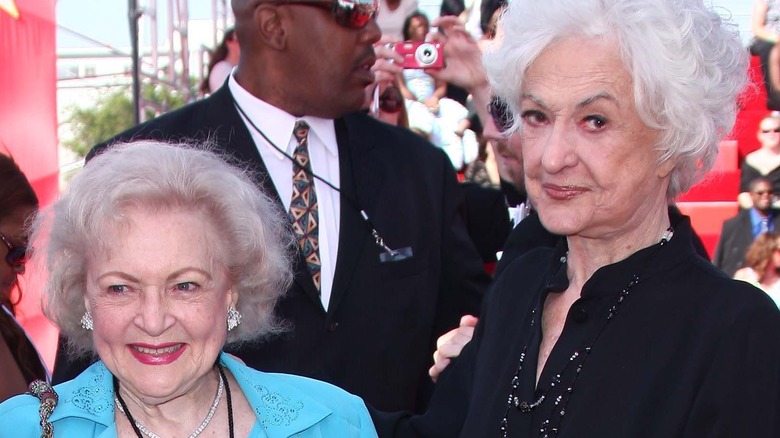 Shutterstock
They were Rose and Dorothy — and would have gone to the ends of the Earth for one another. Two beloved television actresses embodied these two beloved sitcom characters, and, if you were a fan of "The Golden Girls," it was hard to see where Betty White and Beatrice Arthur ended and Rose and Dorothy began. That's how synonymous they were with their characters in the 1980s — and even today, with "The Golden Girls" so readily available on streaming platforms.
Both actresses came to the show with impressive resumes, name recognition, and careers in Hollywood that spanned decades. Who could ever forget White as Sue Ann Nivens, the Happy Homemaker, on "The Mary Tyler Moore Show" (via IMDb) or Arthur as Maude Findley on her "All In the Family" spin-off, "Maude" (via IMDb)? They were legendary characters played by legendary actresses who embodied female friendship. But was the friendship you saw on-screen truly going on in real life?
Betty White and Bea Arthur's relationship may surprise you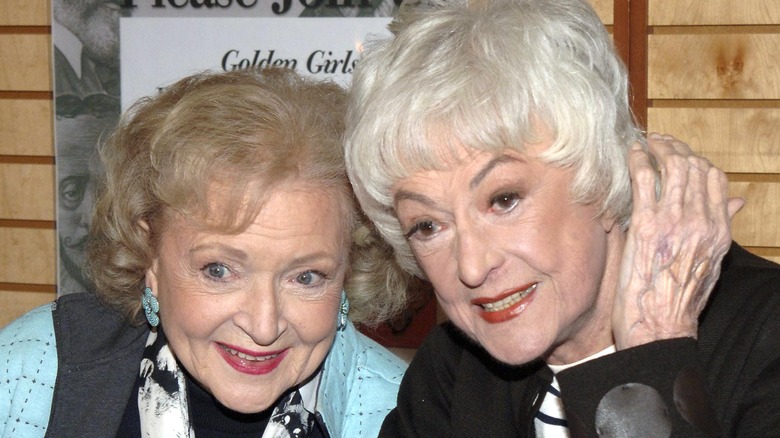 Brad Barket/Getty Images
On-screen, they'd likely say, "Thank you for being a friend," but off-screen, their relationship may have been anything but friendly. As the only one of "The Golden Girls" still living, Betty White continues to give interviews and reflect on her life and career at the incredible age of 99 years young, as of this writing. In 2011, she spoke out on what happened when the cheesecake was put back in the Florida fridge and the cameras stopped rolling.
"She was not that fond of me," White said about Bea Arthur during a 2011 talk with The Village Voice. "She found me a pain in the neck sometimes. It was my positive attitude — and that made Bea mad sometimes. Sometimes if I was happy, she'd be furious!"
Indeed, even Arthur's son admitted his mother could sometimes be difficult to get along with. "It would make my mom unhappy that in-between takes Betty would go and talk to the audience," Mike Saks told Closer Weekly. "It wasn't jealousy. It was a focus thing... My mom unknowingly carried the attitude that it was fun to have somebody to be angry at. It was almost like Betty became her nemesis, someone she could always roll her eyes about at work."
Any "Golden Girls" fan knows that hardened Dorothy would often sigh, "Oh, Rose," when White's character showed her naivete, but you could always tell it was said with love.
More insiders describe Betty White and Bea Arthur's relationship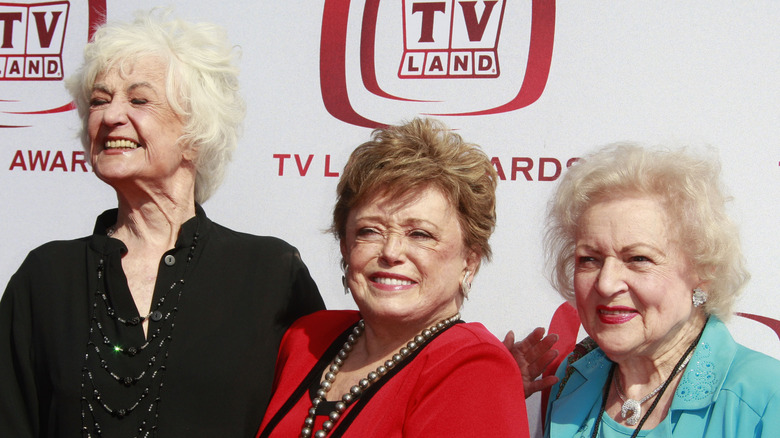 Shutterstock
Just as Rose and Dorothy were two very different women, so were Bea Arthur and Betty White. They also came from two different television backgrounds that proved all comedy is not the same.
"[Bea] came from the old school of Norman Lear where sitcoms were filmed like stage plays and done with up-close reactions," Jim Colucci, the author of Golden Girls Forever: An Unauthorized Biography, told Closer. "[Betty] was from the Mary Tyler Moore school where everything is a very subtle character moment. The jokes are more gentle."
Both actresses also had a different work approach, which sometimes frustrated Arthur. "Bea would hold the script in her hand until the very last minute. Betty, almost at the table read, would be off-book," Colucci told Closer. "She could incorporate new lines just by hearing them, so she was able to clown around with the audience."