The Best Sunscreens To Use If You Have Eczema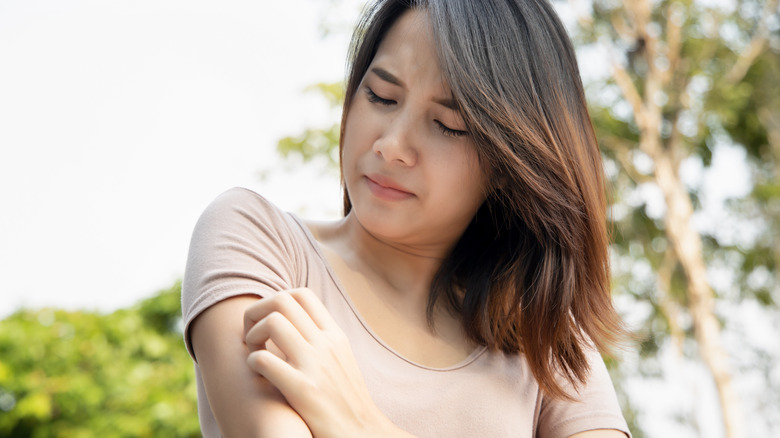 Shutterstock
If you have eczema (atopic dermatitis), there's no doubt you have to be incredibly careful about what you put on your skin because it's likely easily irritated (via Mayo Clinic). From perfume to cosmetics to your body and laundry soap, there's the potential for something to cause your skin to flare. While you know that you should wear sunscreen every day, if you deal with the itchy, red skin caused by eczema, you probably struggle to find a sunscreen that doesn't cause additional irritation. 
According to the National Eczema Foundation, what works for one person with the skin condition may not always work for somebody else. Even so, there are a few things that tend to be helpful for you to look for when you search for a sunscreen that won't cause your skin to flare. A sunscreen that offers broad-spectrum protection using mineral-based ingredients like titanium dioxide and zinc oxide should rank high on your list. Sun protection should also be alcohol-free and provide an SPF of over 30. There are a few brands that meet these criteria. Read on to see which ones.
Here's the sunscreen that earned the National Eczema Foundation seal of acceptance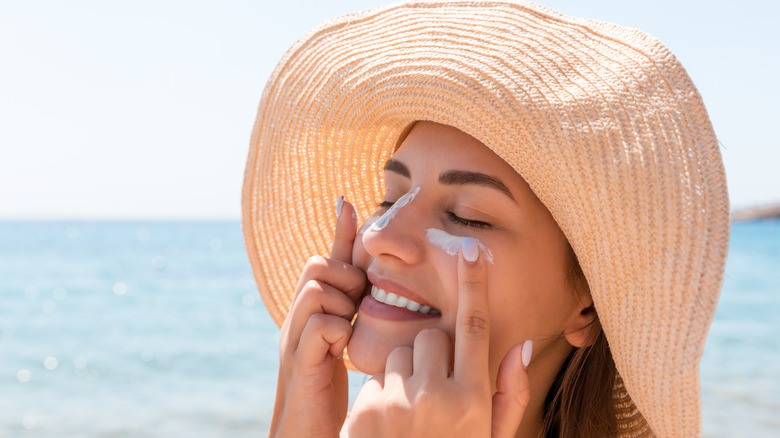 Shutterstock
The National Eczema Foundation created a seal of acceptance to help guide you when you look for products like sunscreen that are less likely to irritate your eczema. Among the sunscreens that received the NEF seal is Aveeno Natural Protection and its Baby Natural Protection line. Another eczema-friendly brand — CeraVe — had several sunscreens make the list. The brand's SPF 50 body and face lotions might work well. Additionally, the group recommends CeraVe Baby Sunscreen SPF 45. Finally, several Neutrogena sun protection products received the seal, including its Pure & Free baby and regular sunscreen line and its Sensitive Skin Sunscreen Lotion SPF 60. 
To ensure that you don't end up with a widespread reaction, the NEF recommended that you do a test of any new sunscreen you try in a small area, leaving it for 24 to 48 hours before washing. If you experience itchiness, redness, or any type of breakout, you should reconsider using the product. In addition to wearing sunscreen, the National Eczema Society recommended that you stay out of the sun between 10 a.m and 3 p.m. and wear protective clothing and hats. If you have any questions or need additional sunscreen information, talk with your dermatologist.