Sunscreens Dermatologists Are Loving This Summer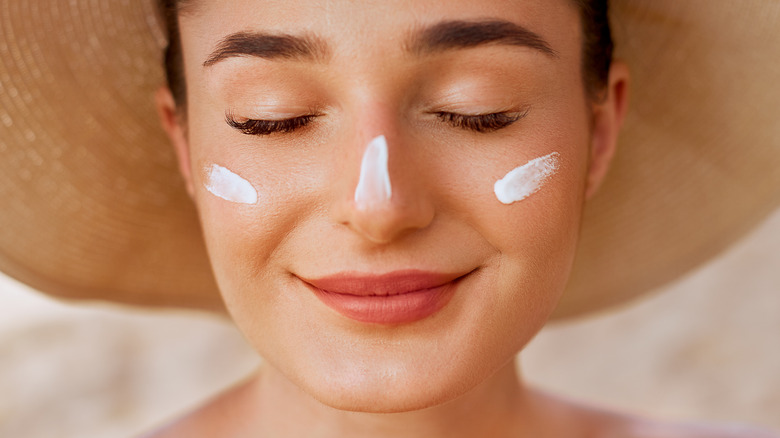 Shutterstock
We may receive a commission on purchases made from links.
Johnson & Johnson has just recalled several of their Aveeno and Neutrogena aerosol sunscreens after it was revealed that benzene was detected in some samples (via CNET). According to Live Science, benzene is a known human carcinogen, and can be linked to some illnesses, like blood cancer. The products being pulled from shelves include Neutrogena Beach Defense, Neutrogena Cool Dry Sport, Neutrogena Invisible Daily, Neutrogena Ultra Sheer, and Aveeno Protect + Refresh. 
An official statement from Johnson & Johnson states that anyone in possession of these aerosol sunscreens should stop using them "and appropriately discard them." With summer in full swing, this is not the time to stop applying sunscreen, though. In fact, the American Academy of Dermatology Association recommends that you should be wearing sunscreen "every day if you will be outside." When you are outside, they also recommend that you reapply sunscreen every two hours. If you happen to have a few of the recalled Johnson & Johnson products at home, this is a great time to invest in some sunscreens that are highly recommended by dermatologists.
EltaMD, Supergoop, and CeraVe has sunscreens for full coverage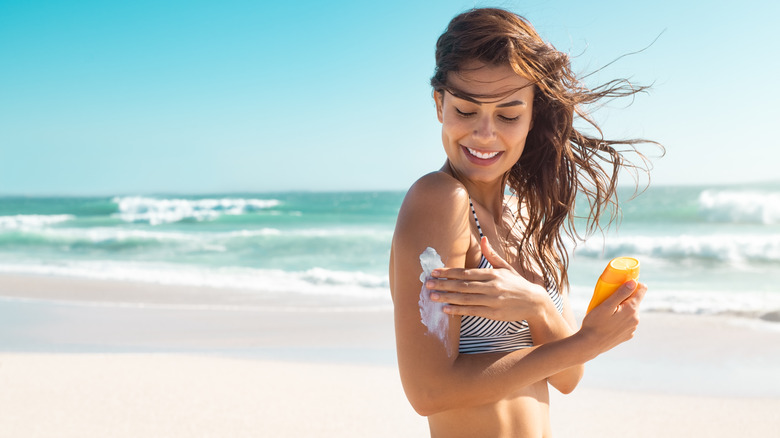 Shutterstock
Dermatologists are great at recommending a good sunscreen for both your face and body. If you're looking for a facial sunscreen to wear daily, dermatologist Jennifer Stein, tells New York Magazine that you should find something with broad-spectrum coverage and an SPF of 30 or higher. However, just because you find something with a high SPF doesn't mean you can skip reapplying. You should continue to reapply after two hours of being out in the sun.
A top recommendation across the board is EltaMD UV Clear, which is "rich in antioxidants" and helps to "protect against skin-damaging free radicals" as well as UV and UVB rays. If you tend to break out, Stein recommends Tizo 2 Non-Tinted Facial Mineral Sunscreen SPF 40 because as a liquid "it's less likely to clog your pores." Another sunscreen that "won't make you break out" is Supergoop's Unseen Sunscreen, according to Who What Wear. 
If you've been to the dermatologist before, you know how much they love to recommend CeraVe products. CeraVe even boasts that each of their products was "developed with dermatologists," so you know they're good. If you're looking for something with mineral ingredients like titanium dioxide or zinc oxide, you'll want to get CeraVe's Hydrating Mineral Sunscreen SPF 50. This can be used for both the face and body, like Neutrogena's Ultra Sheer Dry-Touch Sunscreen SPF 100. If you're looking for maximum coverage, you can't get much higher than an SPF of 100.