The Real Reason Bill Gates And His Ex Ann Winblad Broke Up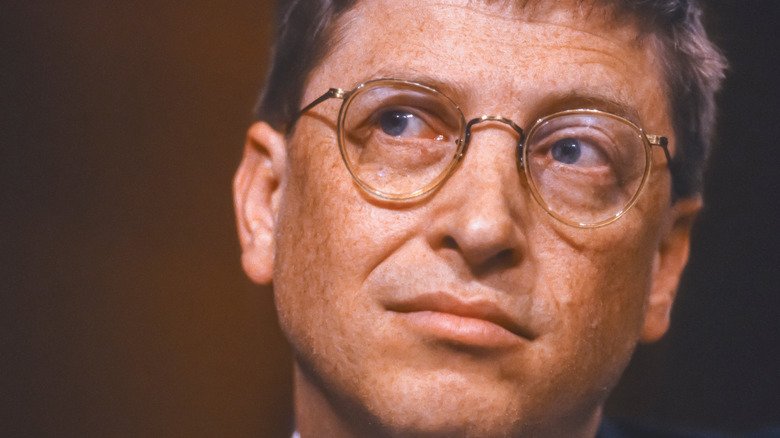 Shutterstock
In May 2021 it was reported that Bill and Melinda Gates – who met at Microsoft in 1987 — would be separating after 27 years of marriage. CNN wrote that Melinda was the one that filed for divorce; however, before Bill met Melinda, he had another very meaningful relationship with software entrepreneur and venture capitalist, Ann Winblad. It's been reported that she has remained close to Gates, even after he met and married Melinda.
People noted that Winblad has founded a number of her businesses and TIME detailed that she met Gates in 1984 at a computer conference. During their three year relationship, they dated and took trips together. However, the profile by TIME revealed that they went their separate ways because he wasn't sure he was ready to get married.
That's not to say that there were many hard feelings there. Business Today reported that Winblad said, "We share our thoughts about the world and ourselves. And we marvel about how, as two young overachievers, we began a great adventure on the fringes of a little-known industry and it landed us at the center of an amazing universe."
And that isn't where Gates and Winblad's friendship ended.
The former couple reportedly remain very close
While Bill Gates and Ann Winblad reportedly cut their romantic ties in 1987, before he met Melinda Gates, the pair remained very close. TIME wrote that they continued to take trips and holidays together as close friends. When Bill was considering asking Melinda to marry him, he reportedly asked Winblad what her opinion was.
The profile said, "Every spring, as they have for more than a decade, Gates spends a long weekend with Winblad at her beach cottage on the Outer Banks of North Carolina, where they ride dune buggies, hang-glide, and walk on the beach." Gates revealed that, after confiding in Winblad about the proposal, he had her support.
Details about Winblad and Gates' relationship have resurfaced since it was announced that he'd be getting divorced from Melinda. In 2019, during an interview with The Sunday Times about her marriage, Melinda made it clear that she'd spoken to Bill about his concerns about getting married. She said, "When he was having trouble making the decision about getting married, he was incredibly clear that it was not about me. It was about 'Can I get the balance right between work and family life?"' Clearly, the balance did not work out for the couple.